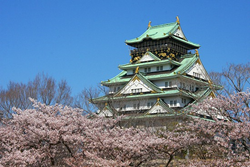 The cherry blossoms serve as a visual reminder of life's beauty and brevity. Clients often return raving about the experience.
S. El Monte, CA (PRWEB) October 09, 2015
Leading Japan tour operator Super Value Tours released their tour dates from through September 2016. These dates include tours during Japan's illustrious Cherry Blossom season.
"As cherry blossom season is the most popular season, we strongly recommend booking early. Many of our 2016 dates are already at capacity or almost sold out," said VP of Product Development, Roy Liao. The window for seeing cherry blossoms is very short and their blooming is tracked and released to the public each year by the Japan Meteorological Agency. In Japanese culture, the short window of radiance serves as a metaphor for life. Liao adds "For Japanese people, cherry blossoms are a visual metaphor of life's beauty and brevity. Our guests always return with lifelong memories of their trip with us."
Super Value Tours is offering three introductory tour itineraries for 2016: 10 Day Japan Classics tour, 7 Day Japan Kansai tour & 6 Day Japan Kanto tour. Additional in depth programs, including tours to Japan's northernmost island of Hokkaido are also available. All tours are inclusive of luxury accommodations, meals, airport transfers, transportation and guide service. All tour dates and pricing can be found at on SuperValueTours.com.
About Super Value Tours
Super Value Tours is a luxury tour operator providing escorted, all inclusive tours to Japan. Luxurious and atmospheric hotel accommodations, exclusive services, expert guides, rare culinary experiences and complimentary travel insurance are included on all packages. Super Value Tours has also been named the #1 Tour Operator by volume to Japan. Discover the Super Value Difference at SuperValueTours.com or call 877-388-1777 and like facebook.com/supervaluetours.