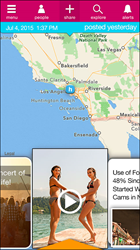 (PRWEB) October 06, 2015
Hereshot was featured on NewsWatch as part of its monthly AppWatch, which takes a look at the latest and coolest applications on the market for iOS, Android, and Windows. Joe Toohey, the host of AppWatch and technology expert, conducted the app review and shared with viewers how this app allows users to upload what they're doing or thinking in any place, at any time.
People love the idea of documenting the where and the when of their every move. That's what social media is all about. It's like a time capsule to look back on in the future. Well, Hereshot is a new geosocial app and it takes that idea to a whole new level.
The application allows users to post any type of media, from pictures to 30 second HD videos to links to news stories. Then the user can tag it with a location and a time so that future users and social connections can find it when they search those tags.
Let's say a user posts a photo from Disneyworld in 1987, they can then tag the date and location. People can then search for posts in that location or that year and see the user's photo. There's even a real time feed in the app, so users can see what people are posting at the moment or if there are any newsworthy events. And as this is a social app so users can follow or block people they don't want to see. Hereshot is available for free on any iOS device by searching 'Hereshot' on the App Store.
To learn more, visit http://www.hereshot.com today.
About NewsWatch
NewsWatch is a weekly 30-minute consumer oriented television show that airs on the Discovery Channel and ION Network. NewsWatch regularly features top technology products and services, mobile applications for iOS, Android, and Windows devices, unique and beautiful travel destinations around the world, health and medical tips, and entertainment interviews on the show. NewsWatch airs on the Discovery Channel at 7:00 – 7:30 AM ET/PT.
NewsWatch is located in the greater Washington, DC area and has been on air for over 25 years. For more information or to watch the most recent episode, visit http://newswatchtv.com/appwatch.html.