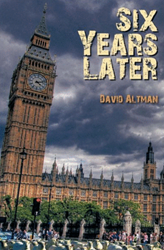 Awareness of the situation is first step towards protecting our future.
NETANYA, Israel (PRWEB) October 07, 2015
In light of recent backlash faced by Dr. Ben Carson regarding his comments on religion and presidency, has political correctness gone too far? David Altman believes that it has.
Altman's book, "Six Years Later" examines mounting cultural tension through a fictional lens: Joseph Giant, an Oxford professor, watches his beloved Great Britain be overtaken by rampant political correctness and deceiving media outlets. Giant fights for his country to realize the accuracy of his claims in time to save Britain from cultural anarchy.
Based on current events and a rapidly changing world, "Six Years Later" treads the line between storytelling and reality.
"Many details written as fiction in the book, since its publication, have actually come to pass. Great Britain, as portrayed, is only an example of what is occurring in many other places all over the world," Altman claims.
After working years in student unions and in academia, Altman has become increasingly critical of political correctness creeping into media and education. He has witnessed how student bodies can lead to political changes, both positive and negative, along with radical forces in media.
"The changes in Britain are not cosmetic, but the entire nature of society as a democracy is under threat," Altman said. "Awareness of the situation is first step towards protecting our future."
For more information, visit iUniverse.
Six Years Later
By David Altman
ISBN: 1462039812
Available in softcover, hardcover, e-book
Available on Amazon and iUniverse
About the author
David Altman served as the Chair of the Israeli University Student Union and Director of the Tel Aviv Foundation. He has written dozens of articles in Israeli media and blogs regularly at the Times of Israel online newspaper. David also served as General Director and Vice President of Bar Ilan University and is currently Senior Vice President and Vice Chairman of the Strategic Dialogue Center of Netanya Academic College. He resides in Israel, in Ramat Gan.
# # #
**FOR IMMEDIATE RELEASE**
For review copies or interview requests, contact:
Jake Doll
317.602.7137
jdoll(at)bohlsengroup(dot)com