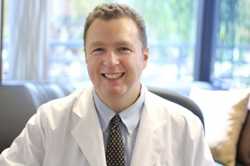 "If a non-surgical option becomes available for eliminating cataracts, that will invariably be the top choice of treatment," said Dr. Tracy
Carlsbad, CA (PRWEB) October 07, 2015
Cataract surgery may be a thing of the past thanks to researchers at the University of California San Diego. Led by molecular biologist Ling Zhao, the researchers discovered that children with congenital cataracts also had a genetic aberration in which their bodies did not produce the enzyme lanosterol synthase, a compound found in the skin. The researchers found that normal lanosterol production prevented proteins in the eye from clumping together, creating a cataract; however, when a lanosterol solution is introduced, the proteins could be dissolved.
"Cataracts are most common in older people, typically in their 70s or 80s, but the condition can develop as a result of injury or infection in people of all ages," said San Diego ophthalmologist Dr. Michael Tracy. "Even minor cases can interfere with a person's daily life, making it difficult to drive or perform other tasks. If the solution were as simple as using cataract dissolving eye drops, it would make a huge difference in millions of people's lives."
The researchers at UC San Diego tested the lanosterol solution on models of cataracts using human lens cells in the lab and observed that the lanosterol broke up the protein in a manner not unlike the effect that cleaning agents have on dirt. The researchers then tested the solution on rabbits and dogs with cataracts and observed the same response, whether administering the solution via eye drops or injection.
"In severe cases, cataract surgery is typically the best option. The clouded lens of the eye is removed and replaced with a synthetic lens; however, any surgical procedure bears some amount of risk of complications," added Dr. Tracy. "If a non-surgical option becomes available for eliminating cataracts, that will invariably be the top choice of treatment."
In order for the cataract-dissolving solution to become available to the public, the researchers will have to prove whether it can be as successful on humans as it has been in the lab. Only after the solution obtains FDA approval as both efficient and safe, will the public have access.
"It can be easy to get excited by the latest clinical research that promises to cure a particular condition that affects so many people," said Dr. Tracy. "But it takes time to ensure that all the details are ironed out and to make sure there are no adverse side effects. I will definitely follow the progress of this study and others like it."
Dr. Michael Tracy is a board-certified ophthalmologist in Carlsbad, CA. He completed his residency training in ophthalmology at the Scheie Eye Institute at the University of Pennsylvania and his fellowship in Corneal and Refractive Surgery at the Bascom Palmer Eye Institute. Dr. Tracy specializes in LASIK and PRK surgery at his private practice at Carlsbad Eye Care.
To contact Carlsbad Eye Care, please visit http://carlsbad-eye-care.com or call (760) 603-9910.