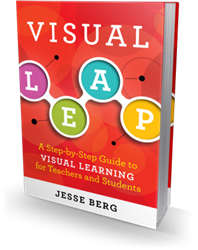 Give voice and vision to that creative, rule-breaking side of your mind that does not do things in the order it was told.
Boston, MA (PRWEB) October 06, 2015
VISUAL LEAP: A Step-by-Step Guide to Visual Learning for Teachers and Students by Jesse Berg (Lamprey & Lee; October 6, 2015).
Do you consider yourself a visual learner? The fact is, to varying degrees, we all are. The human mind is hard wired to find patterns, seek solutions, and piece together information. The problem is that education today bludgeons students with facts and formulas to recall and recite, but fails to teach students how to think. In the process, millions of insightful creative minds are stifled through debilitating and frustrating school experiences that can lead to low self-esteem and professional underachievement. Tragically, many of these disenfranchised students are precisely the innovative, creative types who have the greatest potential to make discoveries, invent and innovate.
In his new book, VISUAL LEAP: A Step-by-Step Guide to Visual Learning for Teachers and Students (Lamprey & Lee; October 6, 2015) Jesse Berg delivers a go-to method for teachers, students, and parents who want to make learning easier and more joyful in a way that matches how people really learn. Strategies like Summary Man, Reverse Mind Map, and Constructed Response Magic are intuitive and practical. Berg's light hearted yet substantive BOWL and LADLE process of visually developing ideas is firmly rooted in cognitive learning theory yet it makes learning feel more like solving puzzles than toiling over topic sentences.
"Growing up I always had a hard time learning new concepts - others told me that it was because I was too right-brained…but with mind mapping I feel that I can express information in a way that is more natural to me…Thank you for teaching me how to learn." – Karim, 2015 High School Graduate
His visual step-by-step methods show learners how to think critically and organize ideas for virtually any academic task. Effective across grade levels and subject areas and for a wide variety of instructional objectives, these visual strategies improve reading comprehension, writing, vocabulary acquisition, note taking, and more.
The Visual Leap method simplifies teaching of the skills needed for the Common Core State Standards and gives teachers explicit ways to differentiate instruction to meet the needs of all learners. Beyond teaching specific skills, however, this book helps educators teach students how to think for themselves.
"The ultimate goal is to nourish students with strategies they can use independently in diverse situations when the questions they have to solve are open-ended and have no clear-cut right or wrong answers," Berg writes.
The Visual Leap approach fosters dynamic, creative, and critical thinking in the classroom, and provides teachers and students with a toolkit of problem-solving and learning strategies designed to help them succeed throughout their academic and professional lives.
"Mapping and drawing ideas is not child's play – it is a serious and efficient way to access the full potential of the human mind," Berg writes. Visual Leap provides specifics on how to use a variety of mapping techniques in the classroom, in addition to a series of classroom exercises, and sample lesson plans using graphic organizers like semantic webs, mind maps, and tree diagrams.
For teachers, challenging students to visualize problems decreases teacher "lecture time" and increases rich student dialogue. For students, mastering these strategies may mean the difference between graduating and dropping out of school or college.
"Visual thinking is a natural way to learn. Give voice and vision to that creative, rule-breaking side of your mind that does not do things in the order it was told. You may be surprised by how high you fly."
– Jesse Berg, Visual Leap
Jesse Berg, MSIT, M.Ed. is an accomplished teacher, professional coach, instructional technologist, and educational speaker. Berg's mission is to improve teaching and learning through visual thinking strategies that make complex cognitive tasks, like reading, writing, and critical thinking, easier to do.
Throughout his career, Berg has explored how visual thinking – such as mapping ideas and modeling mathematics – helps learners to harness their creativity, gain deeper understanding, and reach their intellectual potential.
Berg's experience consulting for public, private, suburban, urban, parochial, and charter schools around the country, and as a teacher and sports coach, informs his high-energy, hands-on approach to professional learning in instructional technology that focuses on co-learning, collaboration, and practicality.
He lives with his wife and two children in Philadelphia.
An Interview with Jesse Berg, Author of Visual Leap
Q: What prompted you to write this book?
For most of my life, I found completing many kinds of academic tasks to be overwhelming. I viewed things like essays and proposals and all sorts of projects with dread. I dreaded getting started, I dreaded the deadline, and I even dreaded the process. I was actually a relatively successful student, but learning was painful. For my entire education and much of my adult life, I thought learning should be easier, less of a struggle, but I did not know how to make it so.
In the middle of my career in education I was introduced to a rudimentary approach to mapping ideas visually, as flow charts and semantic webs. The demonstration ignited an eruption of clarity. I realized that I thought visually and that mapping ideas was my key to learning.
From that moment on, I have dedicated my career to refining methods of visual thinking and learning to help others have the type of personal revelation that was so empowering for me, and to provide them with a clear strategy that they can use independently to achieve their goals.
Q: How do you define "Visual Leap"?
"Visual Leap" is two things. It is a metaphor and a prescription for a desperately needed shift in education. "Leap" symbolizes that we need to make a major transformation in the way we need to teach children, by refocusing on critical thinking and independent learning, not fact laden instruction. "Visual" describes the type of strategies that our system must incorporate and promote to take that leap. A while back, I realized that "LEAP" is also an acronym that stands for "Learn, Earn, Achieve, and Perform" because the method I teach in the book helps learners to do exactly that.
Q: In chapter one, you introduce "visual inquiry." What is it and how can it be effectively integrated into the classroom?
"Visual inquiry" is a term I coined for a workshop I created in 2010, and delivered at the Pennsylvania Educational Technology Expo and Conference. The topic was "Data Literacy through Visual Inquiry." We looked at a data set from the USGS of earthquakes, including the devastating earthquake in Haiti. We visualized the data using two very different computer programs that represented the data in vastly different ways. Both told very different stories, but when we began to visually digest the information, we realized that the two stories complimented one another and provided a far richer understanding than either would have alone. The big idea behind "visual inquiry" it is that one of the most powerful analytical approaches we can take to understanding is visual. In the book I show how teachers and students can use visual inquiry to write papers, take notes, and think clearly.
Q: What are some examples of how technology is changing the way educators look at visual learning strategies? Are there any software programs you could recommend?
Educational technology today is remarkable in its ability to break down barriers to learning, for instance, by allowing people to map ideas visually, convert maps into outlines, and use speech-to-text to develop rich, organized, well-developed writing. Without a doubt, we live in the most exciting time in the history of mankind for educational technology, and its impact is getting more profound everyday. With regard to strictly visual learning strategies, I am blown away by the ability for students to use technology to collaboratively create mind maps and diagram ideas together. I am awed by the ability of programs to convert diagrams to outlines and slideshows. These are profound capabilities that technology permits which seamlessly integrate creative, right-brain thinking and linear, left-brain thinking.
For mind mapping and webbing, my go-to programs and apps right now are Inspiration software and Mind Mup. On the math side, I am most excited by the proliferation of virtual manipulative tools. My favorite are those created by Math Learning Center, and are completely free.
Q: How can educators adjust their teaching styles to cater to students who fall under each of these hemispheres?
Sometimes I hesitate to admit it, but I use the same process to work with kindergarteners as I use with college students and with business executives. What changes are the subjects we discuss, not how we work with ideas. Naturally, kindergarteners are always the most fun to work with. The parallels in the decision making processes across age groups is a fact that never ceases to surprise me, and which, to me, is a validation of the method I provide. We are all human, and we all think and learn. What people desperately need, and what I have tried to deliver, is a method of thinking that learners can put in their back pockets and use independently through life.
I expect teachers will first use the mapping strategies for language arts related topics such as vocabulary building, reading comprehension, writing and note taking. I see broad applications across the sciences for understanding classifications and for diagramming processes. On the math side, decision trees and flow-charts will be adopted for the more conceptual and procedural aspects of computation. On the math side, I would like to write a different book on how to visualize mathematical concepts focusing on virtual manipulatives and interactive math tools.
Praise for Jesse Berg and Visual Leap
"Visual Leap is truly brilliant! Jesse's innovative BOWL and LADLE technique to make SOUP, his ingenious Summary Man, and all of his practical strategies for visual inquiry and transformative note-taking, make the book irresistible." – Linda Kreger Silverman, Ph.D. , author of Upside-Down Brilliance: The Visual-Spatial Learner, and director, Gifted Development Center
"Visual Leap strategies can be a staple for any classroom teacher to help students learn to make connections and think critically. Jesse recently presented in my district and there were many aha moments as teachers saw how simple it could be to differentiate instruction and meet the challenges of the Common Core." – Michael Coppotelli, Associate Superintendent of Schools, Archdiocese of New York
"Since the day Jesse Berg walked into my classroom, his techniques and visual learning strategies have helped my students develop the confidence they needed to succeed. Visual Leap is innovative, intuitive, and courageous and will help many more students become fully invested as owners of their education." – Desmond Kirton, School District of Philadelphia CTE teacher, recipient of the 2015 Lindback Award for Distinguished High School Teachers
"Jesse Berg's book is a valuable addition to the much-needed topic of how to teach visual learners. It is excellently written and replete with great ideas and practical methods for teachers to use in class." – Jeffrey Freed, M.A.T., author of Right-Brained Children in a Left-Brained World: Unlocking the Potential of Your ADD Child
"These visual learning strategies are a genuinely revolutionary step forward for writing and thinking skills across the academic spectrum. I know this from personal experience because these methods helped me unsnarl a difficult paper I was working on. Now I use the mapping techniques Jesse Berg presents in Visual Leap to plan many of my lectures and articles." – Michael Weingrad, PhD, Professor, Portland State University
"Jesse played an integral part in my daughter's life. She has ADHD and auditory processing issues. Mr. Berg encouraged her when all others (including teachers) were telling her she would not go very far. She recently graduated from a top rated university is now working as a senior software engineer at a major corporation. Visual Leap will help many students realize that they too can put their minds to anything they want to do." – Iris Roth, parent
"I've always had a hard time learning new things and concepts. But with mind mapping, and other techniques that I learned in the Visual Leap workshop, I can express the information I receive in a way that is natural for me. I always felt that I was slower than the other kids, that I was dumb. Now I feel like I can go to college. Thank you for teaching me how to learn." – Karim Keita, high school student
Lamprey & Lee is an imprint of Bibliomotion, Inc. designed to serve the needs of prestigious institutions looking to develop book publishing programs, and scholars and researchers interested in bringing their work to readers rapidly. Lamprey & Lee publishes non-fiction only.