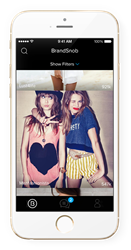 (PRWEB) October 06, 2015
BrandSnob was featured on NewsWatch as part of its monthly AppWatch, which takes a look at the latest and coolest applications on the market for iOS, Android, and Windows. Joe Toohey, the host of AppWatch and technology expert, conducted the app review and shared with viewers how this is the place for elite Instagrammers to connect.
According to new social media statistics, Instagram is huge these days and it's a key place for organizations to increase brand awareness. But until now there hasn't been an easy way to make that happen outside of creating a brand's own Instagram account. Well, BrandSnob is a new application that connects brands with elite Instagrammers, which are those who have a high number of followers and lots of interaction with said followers.
BrandSnob is a direct messaging app that's invite-only - to make sure they're connecting qualified brands with qualified influencers. It also provides a platform for agents to link up their clients with brands. The app launched in June they already have 1,000 registered influencers and 500 brands with many more on their waiting list. When considering who to invite, they look at several criteria, including how many followers they have, how much they engage with them, and how suitable their image or activities are for the industry brands BrandSnob focuses on - like fashion, fitness, luxury, swimwear, and photography.
Once accepted an influencer can set up their profile with photos and a bio to stand out to the brands they want to attract. In addition to responding to reach outs from brands they can talk to other elite Instagrammers. BrandSnob is free to download on iOS devices with an Android app coming soon.
To learn more, visit http://www.brandsnob.co today.
About NewsWatch
NewsWatch is a weekly 30-minute consumer oriented television show that airs on the Discovery Channel and ION Network. NewsWatch regularly features top technology products and services, mobile applications for iOS, Android, and Windows devices, unique and beautiful travel destinations around the world, health and medical tips, and entertainment interviews on the show. NewsWatch airs on the Discovery Channel at 7:00 – 7:30 AM ET/PT.
NewsWatch is located in the greater Washington, DC area and has been on air for over 25 years. For more information or to watch the most recent episode, visit http://newswatchtv.com/appwatch.html.