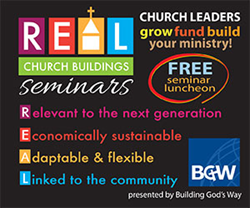 Church buildings are not just for Sundays any more! Come hear about a paradigm shift in the way church facilities are designed, constructed, funded and utilized!
(PRWEB) October 08, 2015
Building God's Way (BGW), a national leader in church design and construction, will be hosting a seminar for church leaders on Tuesday, October 20 at Trinity International University in Davie, FL. The event will be co-sponsored by Walker Design & Construction, a leading church builder in South Florida.
Church leaders throughout South Florida will be attending the seminar to learn about a paradigm shift in the way church buildings are designed, constructed, funded and used.
Seminar speakers will include representatives from leading church architects, church builders, leadership coaches, entrepreneurs and fundraising experts. These experts will share strategies for developing REAL church buildings that can be utilized 7 days a week to reach the community and have a REAL Kingdom impact.
The featured speaker for the event will be Eric Bahme, a cutting edge entrepreneur, a passionate preacher, and the author of the book, "The MBE (Mission-Based Entrepreneur) Revolution: Developing Economic Engines that Drive Mission-based Movements". Eric has spent his life infusing his love for the Lord into his passion for entrepreneurship. The success stories shared in this book of integrating for-profit models in churches have been featured in a number of national publications and on television broadcasts.
Attendees will hear about "R-E-A-L" church buildings that are (1) Relevant to the Next Generation - how innovative church design and technology can help change the method without changing the message; (2) Economically Sustainable - stewardship-driven approaches to expansion, remodel, adaptive re-use and financially sustainable models that integrate for-profit enterprise; (3) Adaptable & Flexible - strategies for planning, designing and building church facilities with future flexibility in mind; (4) Linked to the Community - how to uncover the specific needs of the community and develop a facility that can meet those needs 7 days a week.
Other seminar topics include: (1) Positioning Your Church - Experts will share effective leadership strategies for creating and sustaining the internal momentum necessary to propel a ministry to new heights; (2) Forward in Faith - The seminar will reveal a comprehensive funding solution that goes way beyond just a capital campaign, with proven methods to help ministries get from initial concept to completion.
For more information or to register, visit the BGW Seminar web page.
About Building God's Way (BGW) - BGW has become a recognized leader in ministry design and construction through its extensive experience in working with more than 700 churches, Christian schools and colleges across the U.S. BGW's trademark programs based on Biblical stewardship and ministry on the construction job site have set them apart in the industry. BGW clients typically save 20-30% compared to average construction costs (based on RS Means construction cost data). BGW's broad network includes the most experienced church architects, church builders and engineers, as well as experts in the areas of funding, leadership & church growth, for-profit integration, A/V technology and more.