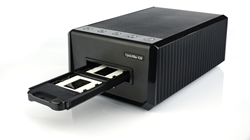 SANTA FE SPRINGS, Calif. (PRWEB) October 07, 2015
Plustek Technology Inc., a leading manufacturer of imaging devices, today introduced its new OpticFilm 135 film scanner. The OpticFilm 135 is a consumer version of Plustek's flagship OpticFilm 120 which has the reputation of being the best film scanner in the industry today. Plustek has made this new fully-automatic device affordable for home users while maintaining superior quality.
The OpticFilm 135 comes with Plustek's new QuickScan Plus software which is available for both Windows and Mac OS X. It offers three scan buttons on the front panel to instantly start film, slide or custom batch scanning. The buttons trigger the motorized film transport mechanism and activate the QuickScan Plus software to process the images.
QuickScan Plus allows users to apply a variety of automatic image enhancements tools as well as preset filters and effects. The non-destructive image editing feature provides a side-by-side comparison with the original image to easily choose the users' desired effects. And lastly users can upload images directly to social media sites.
"Plustek's OpticFilm 135 with QuickScan Plus makes it the easiest way to scan, enhance, and share your photographic masterpieces," said Robert Fuchs, marketing manager for Plustek USA. "This is a perfect holiday gift to digitize those shoe boxes full of 35 mm film."
Key features of the OpticFilm 135 include:

Measures resolution up to 3,600 DPI with dynamic range up to 3.4
Automatic batch scanning up to six 35mm films or four slides
QuickScan Plus offers enhancement tools and effects for automatic and manual adjustment
Non-destructive editing for side-by-side comparison
Direct sends to Facebook, Flickr, Twitter, and Picasa
Three quick buttons for easy batch scanning
Supports panoramic film scanning (optional film holder available 2016 Spring)
Supports both Mac OS X and Windows
The Plustek OpticFilm 135 will debut at the PhotoPlus International Conference and Expo on October 22-24 at the Javits Convention Center in New York City. Plustek product specialists in PhotoPlus booth #1240 will host live demonstrations of the OpticFilm 135 as well as their new ePhoto Z300 photograph scanner and flagship OpticFilm 120 scanner. Plustek OpticFilm 135 is priced at $399 and is available exclusively through B&H Photo Video and Adorama.
About Plustek USA
Based in Los Angeles with 30 years of integrated design experience, Plustek USA is an imaging scanning and mobile surveillance solution provider. Its designs and manufacturers an array of document, mobile, book, film, and photo scanners, as well as in-vehicle video surveillance systems. For more information, please visit http://www.plustek.com/usa.