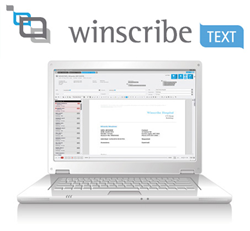 Auckland, NZ (PRWEB) October 07, 2015
Administrative and clinical documentation is a significant task for healthcare providers and can be burdensome to organizations that are looking to improve patient care. Clinicians generate critical documents and reports for each patient including diagnoses, reports, and more - all of which need to be managed for the patient's care and for medicolegal or compliancy reasons. With Winscribe Text, the creation and management of medical documentation is accelerated, and the latest upgrades available with version 8.0 deliver even greater functionality that benefit clinicians, support staff and healthcare IT managers.
By using Winscribe Text, medical staff can have seamless integration with clinic schedules and appointments, and letters can automatically link referring physicians and other important clinical meta-data to the documentation process. Clinicians and medical support staff also benefit from improved document handling in version 8.0, including:

Support for Document Addendums – Addendums can now be made to completed documents, backed by a fully-functional workflow, including managed printing and electronic distribution.
A New Clone Document Feature – Winscribe Text v8.0 enables documents to be cloned, which save time spent on documentation that utilizes repetitive content.
Document Categorization – Winscribe Text users have the ability to tag documents with internal attributes, making a rapid visual check of the additional information a clinician has added during the creation process.
Improved Document Auditing – This updated feature provides clinicians and transcriptionists with the ability to see the history of a document, including full HIPAA compliant auditing trails that record when, who and what changes have been made to documentation.
Healthcare IT managers and administrators also benefit greatly from the release of Winscribe Text v8.0. Some of the key new features available for system administrators includes:
Bulk User Import – System administrators can perform an automated upload of the site's users to set-up and deploy the solution quicker.
Winscribe Forms – This new powerful tool allows for the structuration of document segments to feed them back into third party solutions like an EMR or PACS, allowing for predefined areas of information to be pushed across the system immediately after their creation. This is a milestone step in building intelligent documents with structured data.
Simplified Document Template Creation & Management – The updated Winscribe Text template editor has been simplified to enable the ability to create, share and use report (Word) templates from a single point of template management.
Caleb Seadon, Development Lead at Winscribe, commented that:
"Winscribe Text v8.0 represents a giant step forward for medical documentation management. The robust workflow technology that powers the system was built to enable fast and centralized administration and maintenance, which gives Winscribe Text v8.0 the ability to be quick to setup, simple to understand and maintain, and low cost to roll out the software. We strongly believe that this version delivers on those promises and assists busy health IT managers achieve their business goals."
To learn more about Winscribe Text and Winscribe's full suite of speech productivity and workflow management solutions, please visit http://www.winscribe.com. For more details regarding the latest features and upgrades made available in Winscribe Text v8.0, please visit http://www.winscribe.com/medical-documentation.
About Winscribe:
Clinicians using Winscribe software spend less time on administration and more time where they should be, with patients. Over 350,000 users around the world have used our suite of digital dictation, speech recognition and document management software.
Winscribe's product range makes documentation much faster and more cost-effective. Healthcare professionals can use their voice to easily create documents, enter data and send information.
Thanks to leading edge technology, healthcare providers using Winscribe software are able to focus their efforts where they can be of most benefit, leaving the bulk of administration in the hands of intelligent software. For more information, please visit http://www.winscribe.com.