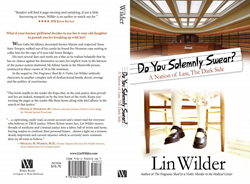 Houston, TX (PRWEB) October 08, 2015
What if a former girlfriend decides to use her 6-year-old daughter to punish her X for breaking up with her?
How does he prove that he is innocent of the worst case of sexual perversion against a child?
Is it possible to refute the lies of a beautiful, seemingly innocent, little girl?
When Gabe McAllister decorated former Marine and respected Texas State Trooper, walked out of his condo in west Houston on a Tuesday morning to head to a meeting of the newly formed task force of the DEA, Texas State Police, and Border Patrol, he found five Houston cops waiting to collar him for the rape of 6-year-old Annie Bridges.
His next several days and weeks are a blur as he realizes belatedly that he has no chance against his diminutive accuser, his implicit trust in the fairness of the justice system shattered, McAllister lands in the Huntsville prison, sentenced to 3 counts of 20 to life sentences.
In the sequel to her debut novel, http://www.amazon.com/Solemnly-Swear-Nation-Dark-Side/dp/1942545185, Lin Wilder embroils characters in another complex web of dysfunctional family, deceit, revenge and the politics of courtrooms. Pulitzer Prize reporter Kate Townsend's front page story for her newspaper, The Houston Tribune, about a juror–the foreman of McAllister's jury–stepping forward to speak about the case and her concern about why McAllister was not granted a retrial galvanizes Houstonians once again: Had a Houston jury convicted another innocent person?
Dr. Lindsey McCall, former inmate at Huntsville and now Medical Director at the Prisons and Rich Jansen, Chief Warden at the prisons are faced with the all-too-familiar question of just how involved should they get as Townsend begins to dig into the background of little Annie Bridges and her mother. When Townsend reveals the details of her new investigative series: A Nation of Law: The Dark Side, Jansen is more than intrigued.
Early reviews are excellent: http://www.selfpublishingreview.com/2015/09/do-you-solemnly-swear-by-lin-wilder/
Author Lin Weeks Wilder Lin worked in the Texas Medical Center for almost 25 years as Dr. Lin Weeks, with the last 18 years as VP of Operations at Memorial Hermann and Chair of the Institutional Ethics Committee while also earning her Doctorate in Public Health from the UTHealth School of Public Health in 1995. Now a full-time writer, Lin is completing the third in her series of crime thrillers, A Price For Genius. See more information about Lin at http://www.linwilder.com
Lin currently lives in northern Nevada and will do a reading on October 16th 2015-http://www.recordcourier.com/entertainment/18137746-113/smith-valley-author-releases-second-novel