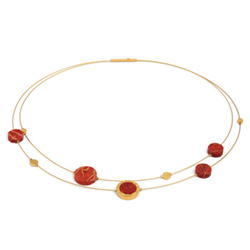 The simplicity and beauty of the collections make the jewelry a favorite to wear everyday. - Shanan Campbell Wells
Durango, CO (PRWEB) October 06, 2015
Sorrel Sky Gallery of Durango is pleased to represent Bernd Wolf, internationally acclaimed German jewelry designer.
Bernd Wolf and his wife, Yvonne, design jewelry collections that reflect the spirit of our times. Using a minimalist language and a synergistic philosophy, the Wolf collections marry high-quality cut gemstones and uniquely textured precious metals with the symbolism of form and material. Diamond, carnelian, kyanite, onyx, pearls, smoky quartz, black spinel, turquoise and sponge coral in combination with sterling silver and 23k gold plating offer simple and distinctive yet pleasing and sophisticated designs.
"An accomplished piece of jewelry is imbued with a charm that fascinates and inspires the beholder. For us, the entire creative process, starting from the moment of opting for a new material via designing the gemstone cuts to the first finished piece, is always exciting and enthralling," Wolf offered.
With a background in engineering, Wolf attends to every technical detail of his work and finds particular satisfaction in utilizing symbolism in his vocabulary of forms. Each gem plays an important role for Wolf in the design process as each gem has a specific purpose and affect on the individual wearer. It is this synergy of material and form that makes each piece unique and tells its own little story.
Sorrel Sky Gallery owner, Shanan Campbell Wells, is enamored with Wolf's collections, stating, "The simplicity and beauty of the collections make the jewelry a favorite to wear everyday."
Sorrel Sky Gallery's fresh approach to Western art presents a select collection of contemporary and traditional fine art and jewelry for the discerning collector. Sorrel Sky Gallery was founded in Durango, CO in 2002 and opened its Santa Fe, NM location in 2014. It represents over 75 painters, sculptors and jewelers including bronze artist Star Liana York, painter Billy Schenck, and former U.S. Senator Ben Nighthorse, among others.