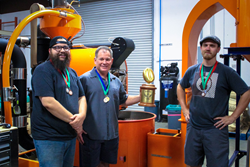 Klatch Coffee's winning espresso beat out 150 roasters and 400 entries to win the first North American Golden Bean Roasters Competition.
(PRWEB) October 07, 2015
Klatch Coffee, a family owned specialty coffee roaster in Southern California, made history by winning the inaugural North American Golden Bean at the 2015 Compak Golden Bean Roasters Competition hosted from September 16-19th in Portland, OR.
Compak Golden Bean originated in Australia 10 years ago and is the world's largest coffee roaster competition with more than 2,000 entries from roasters across the country. The head judges this year were 2013 World Barista Campion, Pete Licata, and two time Golden Bean winner from Australia, Anne Cooper, who worked alongside a variety of judges from micro-roasters to industry personnel to ensure the scoring was accurate and fair.
Mike Perry, Klatch Coffee's Roastmaster and green coffee buyer, took home the Golden Bean trophy for Overall Champion Roaster. The Southern California roaster also walked away with one gold, two silver, and three bronze medals for different coffees submitted with the gold going to Klatch Coffee's submission to the Espresso category beating out 150 roasters and 400 entries. Mike Perry was able to develop the winning espresso using a blend from Panama and Ethiopia which gave the winning espresso "tons of sweetness, distinct but subdued stone fruit, plum, berry, and honey notes; balanced acidity and a round creamy body", according to the judges. Upon winning Mike Perry commented "receiving the Golden Bean award is a huge honor for the whole team at Klatch that worked so hard to develop this winning blend!"
Klatch Coffee is currently offering their winning Golden Bean Competition Blend Espresso for purchase in their three Southern California retail stores as well as online at http://www.klatchroasting.com.