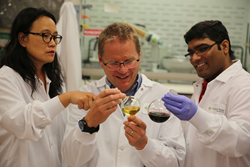 Portland, OR (PRWEB) October 06, 2015
(Portland, Ore.) — Researchers at Portland State University (PSU) have discovered a possible cure for malaria that could be administered orally in a single pill.
The compound is based on a natural red pigment that comes from a soil bacteria. The researchers' results, recently published in the Journal of Medicinal Chemistry, show that the compound cures malaria in a single oral dose in animal models. Additionally, the compound works against drug resistant strains of the malaria.
Click here for video.
Interviews and downloadable b-roll are available upon request.
Principal investigator Kevin Reynolds said the catalyst for his research was an old paper from the 1970s that hinted at the pigment's potential in treating malaria. "Why didn't anyone follow-up on it," said Reynolds. "Perhaps they didn't have the know-how or technology to make the structural changes necessary to make it more effective."
According to World Health Organization (WHO) there were 198 million cases of malaria in 2013. Malaria is caused by Plasmodium parasites and spread through the bites of infected mosquitos resulting in more than half a million deaths each year, the majority of them children under five.
"What's unique about our research is the potential to create a one-pill cure for malaria," said Reynolds. "That's huge because it's not an injection that needs to be kept refrigerated and you wouldn't need multiple doses."
Reynolds, co-investigators Jane Kelly and Papireddy Kancharla have moved beyond the "proof-of-concept" stage, but more work needs to be done before human trials. In the meantime, PSU has filed a provisional patent application for their compound.
Source: Journal of Medicinal Chemistry
Researchers:
Kevin Reynolds, Portland State University professor of chemistry, reynolds(at)pdx(dot)edu
Jane Kelly, Portland State University professor of chemistry, kellyj(at)pdx(dot)edu
Papireddy Kancharla, Portland State University senior research associate, papiredd(at)pdx(dot)edu
Contact: Scott Gallagher, director of communications, 503-725-8789, svg(at)pdx(dot)edu
About Portland State University (PSU)
Oregon's urban research university, recognized for excellence in sustainability and community engagement, is located in the heart of downtown Portland. PSU's motto is "Let Knowledge Serve the City," and it offers more than 200 degrees with opportunities to work with businesses, schools and organizations on real-world projects.