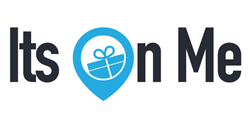 "Entrepreneurs and small businesses are what make our cities unique," said David Leibner, founder and CEO of ItsOnMe®. "By supporting these groups, we help innovation thrive within our local communities."
Las Vegas, Nev (PRWEB) October 06, 2015
Inspired by global initiatives like #shopsmall and #eatlocal, online gifting company, ItsOnMe® allows consumers to use on-demand gifting as a simple yet thoughtful way to say "thank you" or "congratulations" with its own call to action, #GiftLocal.
Consider this: Facebook sends out more than 50 million birthday alerts each day. Rather than post on their wall or shoot them a text, users can gift someone a round of shots or a steak dinner instantly with the ItsOnMe® app. Greatest of all, since the gift is location-based, consumers redeem the gift in a local brick-and-mortar establishment, increasing revenue to independently owned businesses. That's the idea behind gifting local.   
"Every dollar spent at a local independent business generates three times more income, wealth and jobs within the local communities than a dollar spent at a national chain does," says David Leibner, founder and CEO of ItsOnMe®. "Gift cards are currently a $134 billion industry, and if we can shift even a small fraction of those dollars to the local independent businesses, ItsOnMe® has achieved its goal."
Transacting more than 300,000 gifts for more than 20,000 users in the last 12 months (the company's first full year of operation), ItsOnMe® has attracted investors in the hospitality, media and F&B sectors who are working together to shift the outdated gift card model. ItsOnMe's notable list of investors includes Chris Sullivan (Bloomin Brands), John McDonnell (Fifth Generation Inc. makers of Tito's Handmade Vodka), Jonathan Lesser (StubHub, Airbnb) and Mark Stanich (Time Warner, Inc., American Express) among other influencers. These stakeholders have just invested $2.3 million, banking on the app's ability to offer a solution to the flawed gift card industry, allowing consumers to gift local within a global marketplace.
ItsOnMe's seamless platform is changing the gifting industry in multiple ways. With ItsOnMe®, consumers can send gifts immediately from anywhere in the world in real time. They also have the ability to not only send gift cards, but also specific products or menu items.
"We are finding that by offering specific gift options—such as a craft cocktail or a multi-course tasting menu—businesses are driving higher sales value per transaction, when compared with only offering a pre-established dollar amount," Leibner says. "The traditional gift card industry is backward, making our opportunity for impact a tremendous one."
In addition to restaurants and other retailers, companies like Berkshire Hathaway Home Services Nevada Properties are also embracing the #GiftLocal message by using ItsOnMe® to congratulate its clients.
"This technology is a perfect complement to our real estate business," said CEO/owner Mark Stark. "When we congratulate a new homebuyer with the gift of a great meal or a round of drinks to the best place in their new neighborhood, we strengthen our relationship with that buyer while also supporting the growth of the communities we live in and sell into. It's a win-win for everyone involved."
"Entrepreneurs and small businesses are what make our cities unique," Leibner concluded. "By supporting these groups, we help innovation thrive within our local communities."
For more information about ItsOnMe® or Gifting Local visit http://www.itson.me
###
Media Contacts:
Ken Langdon, klangdon@alliedim.com
Shaun Burgess, sburgess@alliedim.com