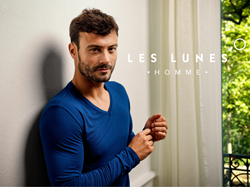 The luxurious feel of bamboo rayon has arrived in Men's wardrobes
SAN FRANCISCO-PARIS (PRWEB) October 06, 2015
At last! The luxurious feel of bamboo rayon has arrived in Men's wardrobes. After six months of design and research in their Paris Studio, Les Lunes will debut Les Lunes Homme October 05 2015. The successful lifestyle concept house has been designing everything from Lingerie to Ready-to-Wear for women out of ultra-soft fabrics sourced from bamboo since 2010. Les Lunes is known for their stylish collections with attention to tailoring a perfect fit and they are now extending this luxury to men with boxer briefs, and a short and long sleeve T-shirt.
Les Lunes Homme focuses on the three most important essentials in a man's wardrobe for its debut. Each of these must be tailored perfectly because these are the items a man wears everyday, whether for work or play. The Les Lunes creative team spent months in their Parisian Studio tackling the challenge of elevating an everyday essential into an elegant masterpiece of comfort and fit. The dream was a boxer brief to support while being so comfortable it feels like wearing nothing at all, and to achieve this Les Lunes Homme did away with the standard elastic band and kept the soft feel of the bamboo throughout. The result is simple comfort in an elegant package. Next, Les Lunes Homme takes the humble T-shirt to a new level. Designed to be worn alone or under a dress shirt, the V-neck disappears under a collar but is not so low that it can't be worn alone on casual days. "I look like Steve Jobs, so elegant and smart in this long-sleeve T-shirt and my suit," said one of the Les Lunes beta-testers.
Les Lunes is known for engaging their customers in the design process. Les Lunes Homme was born from men who accompanied their wives to the Les Lunes Showroom in San Francisco and were impressed with the transformation they witnessed when their wives donned their new garments. "She lights up when she wears Les Lunes. I want that for myself," said one husband. Les Lunes listened, and began designing and testing across the Atlantic and Pacific oceans. The creative team in the Paris Studio worked closely with the production team at Les Lunes Atelier in Shanghai, making alterations as feedback from the SF Showroom trickled through.
Les Lunes Homme felt their mission was accomplished when one man reported back "My wife could not keep her hands off my Les Lunes Homme T-shirt! That works for me!"
For more inquiries please email newsroom@leslunes.com.
For behind the scenes of Les Lunes Homme creation visit http://leslunes.com/pages/behind-the-scene-of-les-lunes-homme.