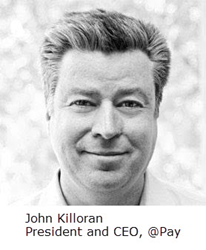 A key to successful fundraising is partnering with providers who share our vision for the future and are willing to introduce emerging technologies for mobile fundraising
Albuquerque, New Mexico (PRWEB) October 07, 2015
@Pay LLC, a mobile payment technology company, today announced that dabow of North Texas has joined its Partner Network as a reseller of @Pay's Text-to-Give.
Faith-based organizations across the nation are discovering that text-to-give is the right solution for a society that is simultaneously becoming cash-less and mobile-first. Rarely do church-goers carry cash for the collection plate, and check-writing is fast becoming a thing of the past.
At the same time, one out of every two in the United States owns a smartphone. Acceptance of mobile payments has become ubiquitous. The weekly reinforcement of text-to-give for tithes and offerings helps increase adoption and sustain repeat giving.
@Pay's text-to-give solution is the only technology that provides 2-factor authentication via SMTP (the protocol of email). Most other text-to-give solutions provide either no authentication or only single-factor authentication.
The advantage of 2-factor authentication for text-to-give is that both donor and organization are protected from donation fraud committed by hackers exploiting the inherent vulnerabilities of SMS.
Dabow serves small to medium size businesses, nonprofits, and faith-based organizations by streamlining their operations, and making their payments acceptance more affordable. Dabow offers business VOIP services, credit card/check/ACH processing, gift and loyalty programs, pre paid cards, analytics, and more.
"We're very excited to have dabow join @Pay's Partner Network," said John Killoran, @Pay President and CEO. "@Pay was founded on the goal of raising billions of dollars of new money for good causes. Our technology makes it incredibly easy for people to give to good causes. If you make it easy for people to give, they will -- and give often. A key to successful fundraising is partnering with merchant services providers who share our vision for the future and who are willing to introduce emerging technologies for mobile fundraising."
"We're looking forward to a great relationship with @Pay," said Sherri Williams, President of dabow, "It's a fantastic new way of helping faith-based organizations and nonprofits grow their giving, and membership."
About @Pay
@Pay is a mobile payment technology company. Using its patented technology, anyone can easily and securely donate, pay, or purchase with just 2 clicks – anytime, anywhere, on any email-enabled mobile device. @Pay helps fundraisers where they need it the most by encouraging and facilitating repeat donations. Donors enjoy the @Pay 2-click donation experience because they have a way to give that is quick, easy, and safe. @Pay has been serving non-profits and faith-based organizations for over 4 years. Its headquarters is in Albuquerque, New Mexico and has operations in Washington D.C., Kentucky, the San Francisco Bay Area, and Oregon. @Pay is a Blackbaud Preferred Technology Partner.
About dabow of North Texas
Dabow is a strategic business solutions company which has just celebrated its 25th birthday. It is BBB rated A+ with 0 complaints.
Dabow serves small to medium size businesses, and non profits by streamlining their operations, and making their payments acceptance more affordable. The company offers, business VOIP services, credit card/check/ACH processing, gift and loyalty programs, pre paid cards, analytics, and more. Dabow is "one company….Many solutions."