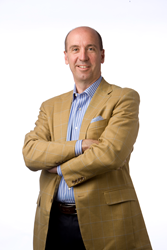 Making the right connections is the key to competing effectively in the marketplace
San Francisco, CA (PRWEB) October 06, 2015
Futurist Jack Uldrich, author of the forthcoming book, "Business as Unusual: The Big AHA" will be addressing the Urban Land Institute along with Jerry Brown, Condoleezza Rice and Brian Chesky among others today in San Francisco.
Uldrich will present to the 2015 UIL Summit along with Charles Kenny from the Center for Global Development. Together the two visionaries will explore the technology trends and changing demographics that are transforming our world. Uldrich will deliver his keynote speech, "The Big AHA" and discuss how technology will transform the city of the future.
"Now, more than ever," Uldrich says, "making the right connections is the key to competing effectively in the marketplace." In his thought provoking discussion, Uldrich will also share a series of actions real estate and business leaders can take today to better prepare and capitalize on tomorrow.
One of the twelve future trends that Uldrich will address is 3D printing. Uldrich says, "In the near future, it is possible that homes will be built in a few hours using automated fabrication techniques. Among other things, this means that the construction industry will need to "unlearn" its existing construction methods and real estate developers will be embracing change at a pace never experienced before."
An expert in change management and future trends, Uldrich will also include in his discussion with ULI on how individuals in real estate can enhance their awareness of transformational changes that are coming in the industry. Highlights will include how learning to "embrace ambiguity;" why finding a "reverse mentor" could be crucial; and why taking small risks may very well be the safest thing business owners can do to position themselves for success in the years to come.
Uldrich is a seasoned and sought after speaker. He has addressed hundreds of clients in a variety of industries throughout the world including (SOIR) Society of Industrial and Office Realtors, the Retail Leaders Industry Association (RILA), Blue Cross Blue Shield, The American Medical Association, the Million Dollar Round Table, Fiatech, Cisco, IBM, WiPro, PepsiCo, United Healthcare, Boston Scientific and General Electric, among others.
Parties interested in learning more about him, his books, his daily blog or his speaking availability and media wishing to know more about either the event or interviewing Jack as a futurist or trend expert are encouraged to visit his website.