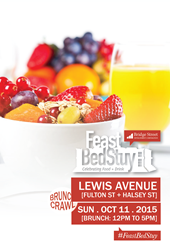 Brooklyn, NY (PRWEB) October 06, 2015
Bridge Street Development Corporation has announced its latest edition of Brooklyn's favorite neighborhood crawl, Feast Bedstuy, will take place this Sunday, October 11. The brunch crawl is presented as part of the 11th annual Bed-Stuy Alive! celebration and will highlight restaurants and eateries along Bed-Stuy's historic Lewis Avenue, between Fulton and Halsey streets.
Feast BedStuy: Lewis Avenue will feature a guided tour and specials from neighborhood staples throughout the afternoon. The festivities kick off at Therapy Wine and will flow to participating venues, from Halsey to Fulton street, including Beso Restaurant, Mom & Pops, Oaxaca Tacos, The Jerk Shop, Peaches, Miss Holly's Smokehouse and Green Gourmet. The crawl will also feature music by live DJ crew Wonderground, along with live performances from Brooklyn-based artists at select locations.
For $5, foodies can join the official tour and receive a "passport" for discounts and samples, along with the following deals:
• $20 Three Wines w/Three Cheeses @ Therapy Wine Bar
• $2 off Chicken & Waffles @ Beso
• Breakfast specials all day @ Mom & Pops
• $4.75 Taco Specials @ Oaxaca Tacos
• $6 Quarter Chicken meals @ The Jerk Shop
• $15 Chicken Wings & Brownstone Punch @ Peaches Restaurant
Feast BedStuy: Lewis Avenue is part of a series of neighborhood crawls highlighting Central Brooklyn as a culinary destination via the district's small businesses and the lush spirit and unique characteristics of the historic neighborhood. Funded by a New York City Department of Small Business Services grant, three more crawls are scheduled through 2016, with Bridge Street focusing on the hospitality and commercial corridors.
"It is exciting to see communities come together as we present Feast BedStuy events throughout the neighborhood," said Yvette Buckner, Director of Community Engagement for Bridge Street. "Hundreds have gathered at each of our events and we are excited to continue growing and expanding our reach while highlighting Brooklyn's amazing eateries and local businesses."
Bridge Street's Feast BedStuy: Lewis Avenue takes place Sunday, October 11, 2015 from 12-5pm. Look for the official Feast BedStuy sticker on store windows to join the crawl or to enjoy Feast BedStuy at your own pace. For a complete list of participating venues or to purchase tickets, visit http://www.bsdcorp.org/feastbedstuy or call 718.636.7596 ext. 214.
**30**
About Bridge Street Development Corporation
Bridge Street Development Corporation (BSDC) is a faith-based, 501(c)(3) not-for-profit organization the mission of which is to build partnerships with businesses, government, and other community stakeholders to provide civic and economic opportunities to the residents of Central Brooklyn.
About Bed-Stuy Alive!
Bed-Stuy Alive! is an annual week-long celebration to promote tourism and stimulate community pride by introducing thousands of visitors to the shops, businesses, distinguished art scene and the historical significance of one of the largest African American communities in the country.