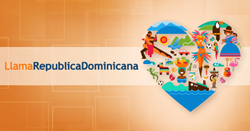 Atlanta, Georgia (PRWEB) October 07, 2015
Can anyone imagine a world without latinos? Can anyone imagine a world without cell phones? Or without pens? Or without airplanes? Or without salsa? And these are only some of the great latino inventions. And since no one can think of such a world, LlamaRepublicaDominicana.com celebrates, for the first time in history, Dia del Corazon latino on October 15th.
The celebration starts on LlamaRepublicDominicana.com Facebook page, on October 8th, where Dominicans are invited to share their thoughts regarding the key facts that make latinos special. And, even more, they are invited to start the party that will make this day official. More info may be found on LlamaRepublicaDominicana.com Facebook page.
Dia del Corazon latino has a mission, which is to:

celebrate latinos worldwide, still living in their mother countries or living abroad
invite latino friends and families to come together, no matter the distance that might separate them
identify more of the things that latinos gave to the world heritage: food, fun, inventions, culture, sports, aso.
Dia del Corazon Latino wants to bring Dominican families and friends closer together, which is also the aim of all services offered by LlamaRepublicaDominicana.com to Dominican expats: international calls, top ups and virtual numbers.
The rates for calling the loved ones still living in the Dominican Republic are as low as 2.5 ¢/min for landlines and 7.9 ¢/min for mobiles.
Beside Voice Credit, LlamaRepublicaDominicana.com also offers Mobile Recharge, a service through which customers can recharge mobile phones anywhere in the world. The process is fast and secure and the credit reaches its destination instantly. The mobile operators available for recharges to the Dominican republic are Claro, Orange, Viva, Tricom and Moun.
To feel closer to their loved ones, customers may also access the Virtual Number service, a monthly subscription created for the benefit of people back home. Thus, anyone calling the customers' Virtual Number will pay the regular rate of a local call.
LlamaRepublicaDominicana.com is available both in English and Spanish, so customers can navigate using the language that is more familiar to them. Within the same purpose of finding easily the information needed, the website also offers 24/7 Customer Support, that may be contacted by email or phone.
About LlamaRepublicaDominicana.com:
LlamaRepublicaDominicana.com is an interactive website designed by KeepCalling, a global telecommunications company registered in 2002 in USA. Presently, KeepCalling provides its services to hundreds of thousands of consumers and businesses, with a focus on customer satisfaction. KeepCalling has been listed by Inc 5000 as one of the fastest growing companies in the USA for 5 consecutive years. In 2015 the company registered a revenue increase of over 200% from 2011 to 2014.