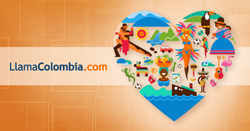 Atlanta, Georgia (PRWEB) October 07, 2015
For the first time in history, on October 15th, Colombian expats worldwide are invited to meet their latino fellows online by joining the feast of El Día Internacional del Corazón Latino on LlamaColombia.com Facebook page: https://www.facebook.com/LlamaColombia
The special day is the ideal context for hispanics worldwide to share ideas and finally become even more aware of their latin traits and common cultural identity. But most importantly, it is an encouragement to celebrate the positive impact of hispanic traits on the world. That is also why the day has been established around Columbus day, or Día de las Américas.
Facebook activities start one week before October 15th. Online Colombians and their friends will be challenged to talk about different aspects of their life that shape up the Corazon Latino. And on October 15th, "la gozadera" will be the keyword and the cherry on the cake.
Día Internacional del Corazón Latino is organized for all latinos worldwide. Among these, Colombians amounted to 44.560.000 in 2007 according to MigrationsMap.net. And of all these, 1,480.000 were outside the borders of the country. About 525,000 of these settled in Venezuela, while about 700,000 in the USA, Spain and Germany.
LlamaColombia.com takes part in the international party for several good reasons:
-LlamaColombia.com serves Colombians worldwide
-It is a service whose main point of existence is to support long-distance communication between latin people, Colombian worldwide and their families and friends back home and other countries.
LlamaColombia.com faciliates international calls to landlines and mobiles in Colombia. These calls can be placed from a PC-to-phone (using Web Call desktop app), or from a regular phone using access numbers, or a smartphone that has KeepCalling app installed for free.
Rates on calls are among the lowest on the market, especially if we consider the high quality of the call connection and the clarity of sound. Outside any promotion, the regular rate is 1.5 ¢/min to call Cali, 2.9 ¢/min for calls to Claro and the landlines in the country. This means that for $2, a fan of LlamaColombia.com can spend 68 minutes on the phone when calling a Claro mobile or any ladline in Colombia, and 133 minutes talking to someone in Cali.
To call at the above rates, one needs to have a free account on LlamaColombia.com and purchase a minimum $2 Voice Credit.
Other affordable solutions for international calls to Colombia are the Monthly Plans. Colombia 200 ($4.99/month), Colombia 500 ($10.99/month), and Colombia 1000 ($18.99/month). All 3 plans are destined for calls to both landlines and mobiles in Colombia and offer very convenient rates per minute: with Colombia 200, the rate is 2.5¢/min, with Colombia 500 it's 2.2¢/min, while with Colombia 1000 customers get the best deal: only 1.9¢/min.
http://www.llamacolombia.com/product/monthly_plan
Besides the international call service using VoIP latest technology, LlamaColombia.com offers Mobile Recharge. This service gives one the possibility to send mobile credit to mobiles in Colombia in less than 1 minute. It serves Colombians to send a gift home quickly or to constantly support family and friends by crediting their phones. One of the best parts is that the website hosts frequent promotions that bring interesting and generous Bonuses on top ups to mobiles in Colombia.
On review platforms, like Trustpilot.com, "easy," "quick" and "excellent" are the frequent words that describe the service.
On October 8h, 2015, latinos from Central and South America join hands and put their minds together to get ready to celebrate the heart during El Día Internacional del Corazón Latino week (October 8th-October 15th).
About LlamaColombia.com
LlamaColombia.com is an interactive website designed by KeepCalling, a global telecommunications company registered in 2002 in USA. Presently, KeepCalling provides its services to hundreds of thousands of consumers and businesses, with a focus on customer satisfaction. KeepCalling has been listed by Inc 5000 as one of the fastest growing companies in the USA for 5 consecutive years. In 2015 the company registered a revenue increase of over 200% from 2011 to 2014.