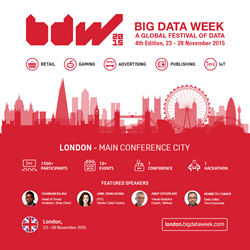 LONDON (PRWEB) October 07, 2015
The 4th edition of Big Data Week is set to begin on 23 November 2015. After a very successful edition in 2014, when over 30 cities worldwide brought together 30,000+ big data practitioners to discuss the connected society and the Internet of Things, the next Big Data Week aims to bring together over 40,000 participants across four continents.
The purpose of the 4th Big Data Week is to inspire more individuals and SMEs to start a data project and tap into the immense growth potential of big data. As such, this edition will introduce "Big Data in Use", a major conference taking place on November 25th, and will feature two tracks – one oriented towards business decision makers, consultants and analysts, and one towards the more technical big data practitioners, such as developers, sysadmins, devops and data scientists:

The business track will showcase fresh and innovative use cases from five industries: retail, advertising, publishing, gaming and IoT.
The technology track will include best practices, how-tos and case studies from big data professionals that have hands-on experience in working with big data technologies such as Hadoop, Spark, NoSQL databases, visualization and integration software.
The November 25th conference tickets can be bought on the festival's website - both VIP & one day pass conference tickets available.
The event will bring on the stage speakers such as Kenneth Cukier (Data Editor - The Economist), Jane Zavalishina (CEO - Yandex Data Factory), Lorraine Stone (UK Country Director - Telefonica Big Data), Andy Cotgreave (Visual Analytics Expert - Tableau), Charles Cai (Head of Data Science Technology - BP PLC Trading Division), and companies such as Shop Direct, Dunnhumby, Excelian, Exterion Media, Skimlinks and Hitachi Consulting.
Bigstep, 2014 supporter of Big Data Week, has already confirmed support for 2015. "There is still a long way to go before the average business starts to understand why and how to harness the potential of data. Big Data Week, with its strong community and powerful international presence, can lead the way towards making data analysis a palpable reality for any business, not the enterprises", said Flaviu Radulescu, CEO at Bigstep.
For more information about the events taking place visit the conference website or follow Big Data Week on Twitter at @bigdataweek and #bdw15.
About Big Data Week
Big Data Week is one of the most unique global platforms of interconnected community events focusing on the social, political and technological impacts of Data. The festival connects a number of global cities through locally hosted meetups, events, networking functions, data visualisation demos, debates, discussions and hackathons. Events are designed to provide a platform to educate, inform and inspire – organised by people who are passionate and knowledgeable about data. We're a self-organising community where anyone is able to host and create an event during the festival; making our platform completely open and community driven.