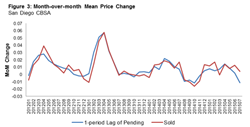 By leveraging pending sale information, investors and financial institutions can stay one step ahead
Chicago, IL (PRWEB) October 06, 2015
The Federal Savings Bank was intrigued by a recent Corelogic release titled "Take a Peek into the Future Housing Market."
Corelogic, a company that provides financial, property and consumer information, analytics, and business intelligence, stated that "the information contained in pending sales provides a good indication of the sale activities and house price trends over several months' time." If take this statement a step further we see that "pending inventory seems always to peak one month earlier than the sold inventory." This is fascinating to lenders like The Federal Savings Bank. Regarding this find Corelogic states that "We are living in a fast-changing world; information that offers some ideas of future HPI and sale activities is hard to come by. By leveraging pending sale information, investors and financial institutions can stay one step ahead and be alerted to what may happen in local housing markets.
The key here is to look at pending inventory. Pending inventory is the leading indicator that will can help lenders and investors gauge demand. Thus, pending inventory might be an excellent predictor of how soon housing demand picks up every spring and when it drops in the fall.
The Federal Savings Bank thinks this indicator is also excellent for prospective home buyers since they will know how much inventory is offered during certain periods of the year to make bids. For example, if pending inventory is high in the winter, a time when most Americans are not buying homes, then the price of properties will probably be listed at bargain prices relative to the spring. Also if inventories are unusually low during the summer, buyers will know there is a lot of competition since most buying occurs during June, July, and August.
Whether customer, reality, or trusted referral source, The Federal Savings Bank understands how important every purchase or refinance transaction is to help our clients optimize the purchase or refinance of their home.