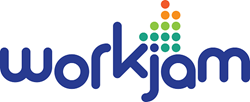 MONTREAL (PRWEB) October 06, 2015
Hiring and scheduling remains an imperfect and cumbersome process for service organizations and the hourly workers they employ, according to a new study by employee relationship management platform WorkJam. The study found 56 percent of employees receive their schedules a week or less in advance and 29 percent rarely receive consistent schedules. Such practices – which have been at the center of recent public scrutiny and proposed regulations – are fueled by outdated technological offerings in human resources for service organizations.
Contributing to workers' scheduling woes, 57 percent of service organizations rely on manual processes when scheduling employees and 68 percent communicate schedules by posting charts in break rooms or communal spaces. Before creating schedules, however, organizations lack a central channel for employees to communicate their availability and preferred shifts to management. Forty-three percent of employees communicate their availability through written requests, 31 percent tell their shift manager over the phone or in person, and 11 percent do so over email.
"The hourly work economy is broken due to historical misalignment between employees and their employers regarding hiring, scheduling and management. This friction has resulted in widespread repercussions on the social, political and business front," said Steven Kramer, co-founder and CEO of WorkJam. "If service organizations fail to innovate their employee relationship management processes, the issue will only worsen and continue to stifle profitability and staff morale."
As is the case with scheduling, hiring in the service industry remains inefficient and uninformed. Only 10 percent of service organizations use mobile applications during the hiring process, while 61 percent rely on paper applications; these documents fail to communicate vital information about shift preferences, pay and qualifications to applicants and hiring managers. With only 43 percent of service organizations posting job openings online and 73 percent taking longer than a week to fill an hourly job opening, the inadequate technology gaps are forcing major value leakage in the fast-paced, high-turnover service industries.
Some other highlights from WorkJam's study, An Inside Look at the Hiring and Scheduling Crisis in the Hourly Workforce, that surveyed 500 U.S. service company managers and more than 700 U.S. hourly employees include:

26 percent of hourly employees left their last hourly job because their schedule was inconsistent or it conflicted with other commitments
48 percent of managers schedule employees for back-to-back closing and opening shifts ("clopenings")
68 percent of managers cite the most difficult part of scheduling is assigning shifts that accommodate both staff's availability and business needs
More than a third of managers report a quarterly turnover rate of at least 26 percent for their hourly employees, and 33 percent claim this rate has increased over the past two years
"To maintain growth and minimize costs in today's tough regulatory environment and competitive marketplace, businesses must quickly adopt more comprehensive systems to manage the employer-employee relationship," said Joshua Ostrega, co-founder and chief operating office of WorkJam. "Managers need to realize that investing in better ways of hiring, scheduling and managing employees is an investment in the company's bottom line."
About WorkJam
WorkJam is an employee relationship management platform that empowers companies with shift-based and hourly workers to manage and optimize the entire employee-employer relationship life cycle with intelligent schedule creation, dynamic mobile schedule management, streamlined staff communication and on-demand training.
WorkJam drives down labor costs, lowers attrition rates, improves compliance, optimizes labor in relation to demand and improves the customer experience and sales with a happier, more engaged staff. For employees, WorkJam enables more control over their schedule and work-life balance, as well as presents the opportunity to maximize their earnings, develop skills, and advance their economic well-being. Learn more about WorkJam at http://www.WorkJam.com.