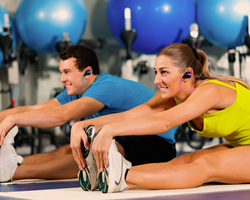 The Novelty Series Bluetooth Headphones delivers premium sound, reliable connection, and long battery life.
New York, NY (PRWEB) October 08, 2015
Primed4U, a manufacturer and retailer of mobile device accessories for iPhone and Android phones, has developed a stylish high performance bluetooth headphones for active people.
The argument against wireless headphones used to be that these don´t sound very good. With new technology and design that is an overblown concern. The Primed4U Novelty Series Bluetooth Headphones offer a strong mid range hi-fidelity sound quality and noise reduction.
"Most customers want headphones that won´t get tangled when they take off their coat or pull them out of their pocket. For this reason we developed wireless bluetooth headphones. However, customers also expect performance, and rightfully so. Therefore we made the bluetooth signal stronger taking into account that the body is the wireless signal´s worst enemy. This makes our bluetooth headphones very reliable," Mark Matthews of Primed4U explained.
Another argument used to be that wireless headphones have batteries that eventually need to be charged. The minimalistic design makes the Primed4U Novelty Series Bluetooth Headphones much lighter than other alternatives on the market today while the rechargeable battery still boasts a long life. The headphones have enhanced battery life with up to 150 hours of standby time or many hours of listening to music. The talk time when on the phone tops out at about 6 hours.
"Many other improvements are small but add up to something significant and whether customers want to use the bluetooth headphones running, on airplanes, during workout, while brushing their teeth, or at the office, we want them to be easy to use and super comfortable. So any hands free functionality will seamlessly transfer from your device," said Matthews.
The wireless Primed4U Novelty Series Bluetooth Headphones are available for purchase from Amazon.com.
Please check out our new bluetooth earphones video on YouTube, and
also visit the Primed4U Facebook Page
Amazon shoppers looking for Primed4U's new Wireless Bluetooth Headphones can purchase it exclusively through Amazon: http://www.amazon.com/dp/B0124H2N3S . The product retails for $39.99, but for a limited time customers can save 25 percent by entering code HNYTFALL at checkout. This product is backed by Primed4U's 100 percent satisfaction guarantee, which promises a full refund. No questions asked.