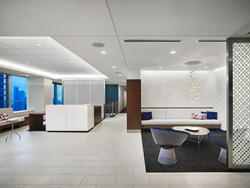 Chicago, IL (PRWEB) October 08, 2015
The offices of Chicago-based law firm Franczek Radelet P.C. have received a complete makeover courtesy of NELSON, a global design, architecture, engineering, and consulting services firm. The same office space located in the city's Loop district that Franczek Radelet has occupied since it first opened its doors more than 20 years ago underwent a complete four phase complete redesign thanks in part to the longstanding relationship with its original designers—NELSON's Andrea Brandt, Principal, Project Director, and Theresa Williams, Principal, Design Director.
Law firm offices have traditionally been composed of private offices ranging in size based on attorney seniority and groupings of cubicles for remaining staff. Franczek Radelet fell in step with the industry's latest real estate trend by creating universal 150 square foot offices, resulting in more offices in less space.
"The planning and redesign process required our firm leadership to explore the industry trends which led to a change in perspective on how space is utilized and valued every day—it became both a challenge and a realization for all of us," commented Ronald J. Hein, Jr., managing partner of Franczek Radelet. "Working alongside Andrea and Theresa again was a delight. They have a deep understanding of our firm and our roots. NELSON was unquestionably the best choice we could have made as we redesigned our office with a focus on the future."
In addition to the individual office restructure throughout the space, NELSON was tasked with creating an updated, contemporary image for the reception area and conference room areas—the most client facing portions of the office. The solution was to increase the natural light and apply lighter colors throughout the interior. The office resizing created additional space to develop into conference rooms that will serve as internal collaboration areas and provide more opportunities for on-site client meetings and events. With the redesign and purchase of new furniture, the firm also was able to donate furniture to Habitat for Humanity.
"Being able to revisit the office design some 20 years later was quite an experience," said Brandt. "Franczek's executive team wanted a fresh feel that spoke to today's legal trends while also putting the firm on the path for tomorrow. To be honest, the firm—like most firms—was a little apprehensive of single size offices. This apprehension disappeared as soon as they saw the first phase of the renovation—the lobby and conference space—which fully utilized the space created by shifting to single size offices. Individual offices are smaller but the entire space is significantly brighter and used more efficiently throughout."
NELSON is part of a global architecture, design, and consulting services organization with Teammates in 28 locations around the world and strong experience in a broad range of industries. NELSON works with more than 20 percent of companies in the Fortune 100. NELSON's interior design practice is ranked in the top ten overall Interior Design "Design Giants," and in the top 5 Giants focused on workplace design. For more information, visit http://www.NELSONonline.com.
Established in 1994, Franczek Radelet P.C. now numbers more than 50 attorneys focusing on labor, employment, immigration, and education law. Franczek Radelet provides a personal approach and exceptional value to its multitude of clients—employers and education entities in both the private and public sectors around the United States. For more information, visit http://www.franczek.com.