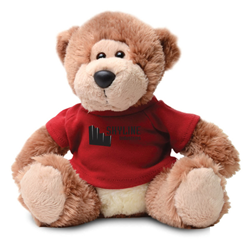 Businesses participating in Safe Toys and Gifts Month with EmbroidMe's promotional products will be supporting the safety of children while simultaneously promoting their brands
West Palm Beach, FL (PRWEB) October 08, 2015
December is Safe Toys and Gifts Month, an annual campaign of Prevent Blindness America, the nation's leading volunteer eye health and safety organization working to prevent blindness and save eye sight. Safe Toys and Gifts Month is dedicated to promoting awareness of and education about toy safety. According to the U.S. Consumer Product Safety Commission, hospital emergency rooms treated about 251,700 toy-related injuries in 2010 throughout the United States. 72% of them were people less than 15 years of age.
Safe Toys and Gifts Month informs parents, grandparents and anyone with small children about how to avoid risks when buying toys and gifts. By keeping updated on the latest recalls and looking for specific safety labels before purchasing a gift, toy-related injuries can be reduced and prevented. Another important safety precaution when purchasing gifts for young children is educating parents about the appropriate age range and skill set for each toy. Safe Toys and Gifts Month allows adults to become involved in the well-being of all children, especially during the holiday season, by monitoring the toys and gifts they are giving and receiving.
There are many ways, large and small, for businesses to participate in Safe Toys and Gifts Month, and the time to prepare a promotional cause marketing campaign for December is now. Businesses can:

Fund or host a local Saving For Sight Day with all donations going to Prevent Blindness
Sponsor fundraising events to provide eye exams and glasses to families with financial needs
Sponsor a toy drive requiring all gifts to pass ASTM safety standards
Promote public service announcements to raise awareness of the most current guidelines, regulations, and product recalls for all toys and gifts
On a smaller scale, businesses can simply promote the importance of safe toys and gifts by working with an EmbroidMe Resource Center to develop custom products emblazoned with the Prevent Blindness green emblem, and passing them out to staff and clients.
EmbroidMe features many child-friendly items including plush stuffed animals, glow-in-the-dark sunglasses, foam puzzles, kid-friendly art supplies and picture books featuring child safety themes. Places of business that promote an in-office challenge to promote toy safety can reward the largest reach or donation with UV protection sunglasses. All safety awareness promotional products can be imprinted with business logos. All such products – and many more – are available from one of the hundreds of EmbroidMe Resource Centers around the world.
"Businesses participating in Safe Toys and Gifts Month with EmbroidMe's promotional products will be supporting the safety of children while simultaneously promoting their brands," said Christine Marion, Director of Retail Operations for EmbroidMe. "EmbroidMe offers the ability to customize products that will convey the message that your company cares about promoting safe toys and gifts and has fun doing it."
About EmbroidMe:
With hundreds of Resource Centers around the world, EmbroidMe is the most comprehensive source for promotional apparel and advertising specialties, providing its promotional partners with full-service custom embroidery and screen-printing for apparel. For more information about and to view this and additional releases, visit the EmbroidMe News & Press Release section of embroidme.com. EmbroidMe's on-site specialists are ready to provide you with first-class service and products of the highest quality; just click EmbroidMe Locations to find the Resource Center nearest you.