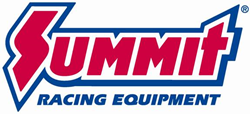 Tallmadge, OH (PRWEB) October 08, 2015
Summit Racing now carries Holley's new Terminator EFI Master Kits, Hurst Dazzler Wheels, and its own Fuel System Kit for GM LS Engines.
Holley Terminator EFI Master Kits
Get a Holley Terminator EFI Master Kit, add a 4150-style carbureted intake manifold, and an enthusiast can have EFI in an afternoon. Holley has updated its Terminator EFI systems into complete kits that include a fuel pump, fuel filter, and other components to convert a carbureted fuel system into one that can feed an EFI engine.
Hurst Dazzler Wheels
The original Hurst Dazzlers are prized collectibles among musclecar enthusiasts, with a set of restored wheels worth upwards of $6,000. But enthusiasts can get the look and strength of the Dazzler for a lot less with these new Hurst Dazzler wheels. They pay homage to the original design, but have a machined-in beauty ring instead of the original's separate ring.
Summit Racing Universal LS-Style Fuel System
This Universal LS-Style Fuel System is the easy way to fuel an LS engine swap. The return-style system features an external-mount electric fuel pump rated a 255 lph and 60 psi. The pump "dead-heads" at the fuel rail inlet, returning any excess fuel back to the tank, very similar to the fuel system in factory LS performance cars.
Summit Racing Equipment
SummitRacing.com
1-800-230-3030