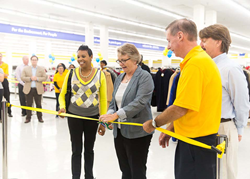 We are happy to offer the Baltimore community a source of quality affordable clothing, while contributing to Planet Aid's mission to inform, mobilize, and inspire individuals and communities
Baltimore, MD (PRWEB) October 06, 2015
Nonprofit organization Planet Aid opened its first-ever thrift center on October 1st, located in its headquarters neighborhood of Baltimore, Maryland. All proceeds from the new thrift store will benefit Planet Aid's numerous development programs and initiatives in Africa, Asia and the Americas.
The grand opening saw hundreds of bargain hunters eager to mine the designer fashion labels and other bargains presented artfully throughout the store. Examples include Brooks Brothers suits, Ugg boots, Diesel pants, Louis Vuitton purses and much more. Customers were also able to purchase musical instruments, luggage, cookware, baby supplies and other household items.
The Thrift Center, located at 5425 Baltimore National Pike, Baltimore, will employ nearly 30 Marylanders and operate seven days a week.
"We are very excited to bring this new store to the neighborhood," said Planet Aid CEO Ester Neltrup. "We are happy to offer the Baltimore community a source of quality affordable clothing, while contributing to Planet Aid's mission to inform, mobilize, and inspire individuals and communities to work together to bring about worldwide environmental and social progress."
Neltrup added: "The turnout on our first day was really remarkable, even with the bad weather. Hundreds of people made purchases that will enable us to help more people around the world than ever before."
Planet Aid has long been a valuable resource for the people of Baltimore, providing residents with a convenient and charitable ways to recycle their unwanted clothing at the numerous yellow drop-off bins located throughout the city. The new Planet Aid Thrift Center further underscores the group's commitment to the local community by creating good local jobs and offering an alternative shopping experience that's affordable, pleasant and benefits the greater good.
Members of the local community can help Planet Aid protect the environment while helping the poorest of the poor throughout the world by donating unwanted clothing, shoes, toys, books and other household items at the new thrift store's donation center drop-off point or parking lot bins, or leaving them in any of Planet Aid's nationwide yellow bins. To find a bin near you, visit http://www.planetaid.org/find-a-bin.
To learn more about the new Planet Aid Thrift Center, please visit: planetaidthrift.org.
About Planet Aid
Planet Aid is a U.S. 501 (c)(3) nonprofit registered with USAID as a private voluntary organization. It collects and recycles used clothing and shoes as part of its environmental mission. The net proceeds from its 23-state recycling operation help to support an international aid and development mission. Since its inception in 1997, Planet Aid has provided more than $100 million to support international aid and development on three continents. It has managed Food for Progress programs in both Mozambique and Malawi totaling several million dollars. Previous Planet Aid efforts have included programs in education, teacher training, nutrition, and agriculture and economic development.