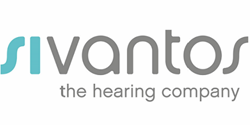 (PRWEB) October 08, 2015
Sivantos was featured on NewsWatch as part of its monthly Tech Report, which features the latest and coolest technology products available to consumers. Andrew Tropeano, a technology expert and the host of NewsWatch, conducted the review and shared with viewers how they conducted a survey about hearing loss which resulted in interesting key findings.
According to the American Academy of Audiology, hearing loss is the third most common health problem in the U.S., affecting more than 48 million Americans. When untreated, hearing loss has been linked to a multitude of issues like social isolation, cognitive decline, and even dementia.
Dr. Eric Branda from Sivantos sat down with NewsWatch to discuss their recent survey about this condition. Dr. Branda said, "We enjoy communicating with friends and family and hearing loss directly affects communication. We recently did a survey in 2015, a life at 50+ survey, and some of the key findings that were interesting were the amount of hearing loss out there. For people with mild to moderate hearing loss, only 16% are doing something about it."
To learn more about the Sivantos study on hearing loss or their latest hearing aid devices, head on over to usa.bestsoundtechnology.com.
About NewsWatch
NewsWatch is a weekly 30-minute consumer oriented television show that airs on the Discovery Channel and ION Network. NewsWatch regularly features top technology products and services, mobile applications for iOS, Android, and Windows devices, unique and beautiful travel destinations around the world, health and medical tips, and entertainment interviews on the show. NewsWatch airs on the Discovery Channel at 7:00 – 7:30 AM ET/PT.
NewsWatch is located in the greater Washington, DC area and has been on air for over 25 years. For more information or to watch the most recent episode, visit http://newswatchtv.com/tech-report.html.