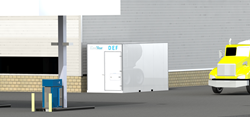 We wanted to give them enough capacity to guarantee that they didn't have to choose between running out of DEF and getting the best price.
Evansville, IN (PRWEB) October 07, 2015
Today KleerBlue Solutions announced it has produced a new 7100 gallon turn-key bulk DEF storage unit. This unit is designed to meet the increased demand for aboveground bulk storage equipment, accommodate large DEF volumes and be aesthetically pleasing.
DEF users can save on cost and DEF retailers can improve margins by purchasing Diesel Exhaust Fluid in bulk. KleerBlue engineered the 7100 gallon storage unit to not only accommodate large 5400 gallon deliveries, but also to ensure enough capacity remained to eliminate timing and scheduling issues. It offers a true 6400 gallon useable capacity based on a 10% safety factor for a 7100 gallon brim fill tank – it's the largest storage unit of its kind on the market.
"DEF users and retailers are choosing larger storage tanks due to the cost savings involved," observed co-founder Steve Murray. "We wanted to give them enough capacity to guarantee that they didn't have to choose between running out of DEF and getting the best price."
In addition to larger capacity the KleerBlue unit offers several design improvements over similar units on the market. The unit comes with triple wall containment –heavy-walled primary and secondary tanks, as well as a weather-proof outer shell. Equipped with industrial-grade insulation and immersion heating, these units are designed to withstand extreme temperature variances. KleerBlue' s specially designed immersion heating system provides superior temperature control over forced-air heating, especially where large liquid volumes are concerned.
"Large volumes of liquid require special considerations," explained co-founder Roy Jorgensen. "When you invest in more DEF inventory, you want to protect that investment. When we built this product we walked through all the worst case scenarios and engineered one to withstand them."
Retailers, fleets, and other high volume DEF users look to mobile aboveground tanks for cost savings and increased facility design options over traditional in-ground tanks.
The new unit offers a small footprint and its sleek proprietary exterior comes in a standard white so it might be easily incorporated into the overall facility design concept.
Units are available for pre-order now and will begin shipping fall of 2015.
About KleerBlue
KleerBlue offers the widest selection of Diesel Exhaust Fluid (DEF) storage, handling and dispensing equipment in the industry. Their products range from drum & tote dispensing solutions to fuel island-friendly mini-bulk tanks and larger bulk aboveground tanks, from fixed and portable pumping systems to fully automated blending facilities. KleerBlue was formed in 2009 as a 50/50 joint venture between Separation By Design, Inc. and Murray Equipment, Inc. Visit http://www.KleerBlueSolutions.com to learn more.