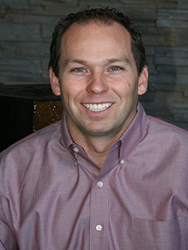 Durango, CO (PRWEB) October 06, 2015
Dr. Mason Miner is pleased to celebrate Dental Hygiene Month this October by providing patients with gum disease in Durango, CO, the opportunity to combat their condition using a laser dental treatment, the WaterLase iPlus™. This system allows the doctor to perform all of the scaling and root planing necessary in a cleaning, without having to resort to the utilization of traditional dental gum surgery, which may be more invasive.
Gum disease is a major problem in the U.S. and around the world. Millions of people are affected by the condition every year, but few may actually be aware of their condition. Gum disease, and its more serious counterpart, periodontal disease, are linked to other serious medical conditions, and may play a role in eliciting such conditions. This includes heart disease, stroke, cancer, diabetes, and preterm labor. When patients fail to properly treat this condition, they may increase the risks associated with these diseases.
Although gum disease may prove to have a significant impact on health, many Durango, CO patients opt to forgo treatment, due to the fear of pain often associated with undergoing treatment. Fear of needles or pain and dental anxiety can evoke feelings of concerns, even for such routine procedures as fillings. To combat this problem, Dr. Miner has chosen to use the WaterLase iPlus™ laser dental treatment for his patients. The laser works by exciting the water molecules located in the tissue of the affected area.
The laser works by exciting the water molecules located in the tissue of the affected area. This keeps the area hydrated, producing less heat and minimizing pain, allowing the laser to cut through soft tissue and the bone of teeth, providing fasting healing and less pain afterwards. Patients often report feeling less pain, less bleeding, and less inflammation compared to undergoing traditional methods of treatment.
Patients with gum disease in Durango, CO, who would like to learn more about the WaterLase iPlus™ laser dental treatment, are invited to visit the doctor's website to learn more about how it can help them regain their oral health this October.
About the Doctor
Dr. Mason Miner is a general dentist offering personalized dental care for the entire family, in Durango, CO. Dr. Miner is a graduate of Marquette University School of Dentistry in Milwaukee, Wisconsin. Beyond that, he also completed training in Advanced Education in General Dentistry at the University of Missouri, Kansas City. Dr. Miner focused his studies on the surgical placement and restoration of dental implants, which he offers as a service at his practice. Dr. Miner is a member of the American Academy of Facial Esthetics, American Dental Association, the Colorado Dental Association and the San Juan Basin Dental Society. To learn more about the services offered by Dr. Miner, please visit his website at http://www.masonminerdds.com or call (970) 306-0535 to schedule an appointment.