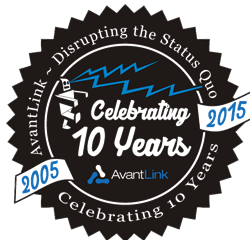 "We can't think of a better way to recognize those ten years than by engaging our client partners in a campaign to help those less fortunate than we are."
Park City, Utah (PRWEB) October 07, 2015
AvantLink, an affiliate marketing network based in Park City, Utah, is celebrating a decade of being in business with a charity challenge campaign to benefit the Charity:Water organization. The charity campaign encourages AvantLink clients who have partnered with the network over the past ten years to get involved by simply sharing the campaign on their social channels, resulting in donations made by AvantLink for each share.
"AvantLink has experienced continual growth since its founding, resulting in the success of both our business and that of our clients," says Scott Kalbach, founder and CEO of AvantLink. "We can't think of a better way to recognize those ten years than by engaging our client partners in a campaign to help those less fortunate than we are."
To participate in the AvantLink Ten Year Charity Challenge, AvantLink's clients (or even non-clients who would like to participate) may share a link to the Charity:Water campaign page on either Twitter or Facebook and tag it with the hashtag #AvantLinkTen. For all shares and interactions made on each share, such as a retweet or like, AvantLink will donate $5 to Charity:Water, up to $10,000. External additional donations can be made on top of the donation totals made by AvantLink.
"So many of our clients are already involved in charitable work and community outreach," says Kalbach. "We are confident the AvantLink Ten Year Charity Challenge will be received as a refreshing way to celebrate this milestone, especially when participation is so simple."
The AvantLink Ten Year Charity Challenge will start Tuesday, October 6 and run through the entirety of Q4 or until the campaign hits the goal of $10,000 in donations to Charity:Water.
For more info on the AvantLink Ten Year Charity Challenge and AvantLink's decade in business go here: http://avantlink.com/ten-year
About AvantLink: AvantLink is an industry leading cost-per-sale affiliate marketing network based out of Park City, Utah. Founded in October, 2005, AvantLink has remained completely focused on quality over quantity, innovation in technology, and ethical business practices since day one. AvantLink operates networks in the US, Canada, and Australia and hosts affiliate programs for online retailers like REI, Blendtec, Under Armour, Fanatics, and more. The company is currently celebrating its tenth year of disrupting the status quo in the affiliate industry.
About Charity:Water: Charity:Water is a non-profit organization bringing clean and safe drinking water to people in developing nations.
Press Contact: Chad Waite, cwaite(at)avantlink(dot)com