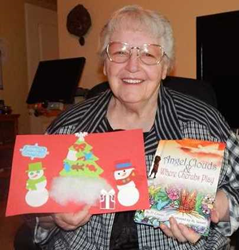 Do you have a dormant talent? If you love writing, dig out that book you started, or that unfinished story tucked away in a drawer. Whatever your talent is, revisit your dream; it isn't too late, and it will make you happy.
King City, OR (PRWEB) November 05, 2015
At age 81, PJ Cowan has decided to turn her time and attention to taking care of her husband and home. Her 40 self-published books will still be printed and sent to the hundreds of homeless and shelter children, as well as the children's hospitals, schools and fundraisers who have been receiving them for the last six years. The writing of the little stories has been a labor of love for children everywhere.
Her final book is actually two books in one: "Angel Clouds" and "Where Cherubs Play." This hardcover book is a departure from PJ's usual children's stories. Its two brilliantly illustrated poems will appeal to adults, although children will appreciate Where Cherubs Play. The book would make a great Christmas gift for family, friends, and neighbors. For every book purchased, PJ will donate one to someone in need. Books are available from Mira Digital Publishing at http://www.mirabooksmart.com/Angel-Clouds-Where-Cherubs-Play_p_623.html or by contacting the author.
Well-known Boston artist and illustrator R.L. Sewell has been drawing, painting and working with electronic art in various capacities for the last twenty-five years. His work is found in newspapers, on websites, in homes, and on permanent exhibit at the local theater. A journalist drawn to the world of visual expression, R.L. enjoys the delightful task of giving PJ's characters shape, form and color. You can see more of his work on his studio and personal websites: http://www.saranghaystudios.com and http://www.rlsewell.com.
Pricilla Cowan, born in the Colorado Rockies, was a Depression baby, who listened to stories made up by her mother, and she in turn made up stories for her children. Pricilla, known as "PJ" in the workplace, retired in 1995 after 20 years as a microfilm technician. "I was a dinosaur" she states. "That year digital imaging was introduced into the work place, and it was time for me to go." Her husband Vernon was still working as an IT professional for Nike and PJ needed something to fill her time alone.
Her oldest son Mike encouraged her to write down some of the stories she had made up for them. "I couldn't remember all of them, but as I began to write new ideas presented themselves to me. The more I wrote, the more stories presented." By 2007 PJ decided to try self publishing and in 2008 she published "Michael O'Brien and the Magic Hat." At first she wrote it for her great-grandchildren but later decided to also share her stories with children who are growing up in circumstances not unlike those of the Depression years. She reached out to fellow authors and her church group, who provided her with shelter names. The list grew and now includes 38 addresses. She has self-published 40 original titles, some with Spanish translations, including coloring books and storybooks.
PJ has great incentive to write stories for children. She has 11 grandchildren and 15 great-grandchildren (5 boys and 10 girls) who range in age from 3 months to 19 years. Her extended family members are scattered from Oregon to Massachusetts, so the stories are her way of reaching out to send them a great-grandmother's love and share small lessons as well. It is her wish that they pass the books on to their own children and grandchildren one day.