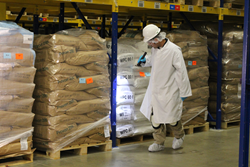 "In this high-risk environment, training must include not only how to eliminate pests, but also food safety, worker safety and regulatory topics, ensuring complete and effective problem resolution," said Hottel.
South Elgin, Illinois (PRWEB) October 16, 2015
Due to ongoing foodborne illness outbreaks and concerns, McCloud Services, a leading pest management company serving Illinois as well as Indiana, Iowa, Kansas, Kentucky, Missouri, Tennessee, Ohio and Wisconsin, is generating awareness on the importance of technical training for pest management professionals working in food processing facilities.
Media stories such as the recent court case decision against Peanut Corporation of America CEO Stewart Parnell, (http://www.cnn.com/2015/09/20/us/peanut-butter-salmonella-trial), the final rule announcements under the Food Safety Modernization Act and proposed changes to the Good Manufacturing Practices, serve as recent reminders of the importance of food safety. Properly trained personnel, whether contractors or full-time employees, is essential. Pest management professionals are no exception. Food management professionals play a key role in managing pests and potential contamination of food. A broad knowledge base is essential in perfecting that food safety role.
McCloud Services recommends two types of training that should occur within the pest management firm. "A pest management firm specializing in food safety should develop an initial training program for new hires, and a continuing education program for existing employees. There are many safety risks a new employee can be exposed to, so their training should include a safe driving course and the OSHA ten hour course prior to any on-site training. Continuing education should focus on worker safety updates, new technologies, technical topics and updates on pests to focus on during inspection," said Patricia Hottel, technical director at McCloud Services.
Because ongoing training and education for pest management professionals is critical to protecting a food facility, McCloud Services has developed a white paper, "Technical Training for Pest Management Professionals in Food Processing Facilities," detailing special training needs and categories that are important for employee training including general food safety knowledge, worker safety regulations, third party audit standards, food plant processing systems and equipment, and specific corporate policies and procedures.
To learn more information, please download McCloud Services' white paper here: Technical Training for Pest Management Professionals in Food Processing Facilities.
Contact McCloud Services to learn more about their food safety pest management programs at 800-332-7805 or at contact(at)mccloudservices(dot)com.
About McCloud Services
McCloud Services, based in South Elgin, Ill., is the leader in food protection services throughout the chain of custody – from grain elevator to grocery store. McCloud Services is known for its integrated approach to pest management, specifically designed for the food supply chain of custody. Serving the largest food-related brands in the U.S., the company has earned a reputation as the "food protection experts." McCloud Services is a regional service provider with locations in 11 states. For more information, please visit: http://www.mccloudservices.com.
Proud to serve the largest food-related brands in the U.S.
# # #