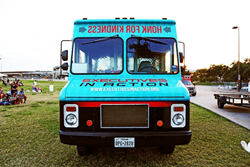 Dallas, Texas (PRWEB) October 06, 2015
North Texas nonprofit Executives In Action (EIA) is launching a new extension of their motto, Business Smarts Caring Hearts. They created a food truck that exists to disseminate kindness through out the community. Their staff and volunteers will lead the kindness initiative by facilitating random snacks and random acts of kindness.
"We have been working on this EIA Kindness Truck for a while," EIA co-founder, Ashlee Kleinert, said. "It's literally the perfect vehicle to demonstrate kindness and lift up the community, which is exactly what we want to do with our mission at EIA."
The EIA Kindness Truck is the first of its kind in the DFW Metroplex. The food truck trend is very popular and well received by the community. The EIA team wanted to put a spin on the idea of a food truck and do something out of the ordinary. The truck will not have any items for sale. It will only give items away via random acts or snacks of kindness. There is no revenue model aligned with the EIA Kindness Truck.
"There are a number of ways you'll see the EIA Kindness Truck used," Kleinert said. "You may see us giving away hot coffee early in the morning at a DART station. Or perhaps you may see us providing warm blankets to a homeless shelter on a chilly night."
Although the EIA Kindness Truck will promote random snacks of kindness, they will also focus on random acts of kindness. The vehicle will also be used as a collection point for various homeless shelters and food pantries. The EIA organization is excited to work with its partner nonprofits, in helping lift up their mission and have a transformational impact on the populations they serve.
"We hope this new initiative has a positive impact on the community our nonprofit serves," Kleinert said. "Not only on the folks who receive the random acts and snacks of kindness, but also those who see us driving by with our truck. We hope it serves as a gentle reminder to do all things in kindness."
About Executives In Action (EIA):
Executives In Action (EIA) is a registered 501(c)(3) focused on supporting Dallas-area charitable organizations. EIA provides high-level service grants to nonprofit organizations with the purpose of enhancing their efficiency, management and impact. These grants are fulfilled by senior executive consultants in transition who use their years of business experience to perform the project. To learn more, visit executivesinaction.org.
###