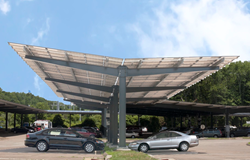 We are very excited to be able to save money and cut down on our energy consumption.
(PRWEB) October 08, 2015
New York, NY – Solaire Generation, the nationally recognized market leader for innovative solar parking solutions, is proud to announce its completion of the largest solar carport project in Connecticut at the Jewish Community Center of Greater New Haven. The 750 kW system will result in immediate cost savings to the JCC's utility bill at no upfront cost.
"If electricity purchase rates continue to rise, the carports and solar panels will significantly reduce our costs over their lifetime. We are very excited to be able to save money and cut down on our energy consumption," said Scott Cohen, Chief Operating Officer of the JCC of greater New Haven.
This is the first carport project to take advantage of the Connecticut Green Bank's low-cost C-PACE-secured PPA structure. Although the JCC is a nonprofit entity, by using C-PACE financing it was able to benefit from the full range of available incentives, including the federal solar investment tax credit (ITC). Solaire Generation initially secured a Zero Emissions Renewable Energy Credit (ZREC) contract for the project before partnering with Bullrock Deutsche Eco Solar Ventures, who further facilitated the agreement with the JCC and the CT Green Bank.
Parking canopies were the ideal solution for the JCC, which has limited space for a roof top PV system. The Solaire 360 D™ and Long Span 360 D™ models at the JCC will generate roughly 900,000 kilowatt hours of clean electricity per year – about half of the building's annual electricity requirements or the equivalent used in 90 homes – without reducing the number of available parking spaces.
As a family/community center, the JCC required a system that was safe and durable. Solaire's patented dual incline canopy designs prevent snow and ice from sliding onto people or cars below by directing the snow towards the center of the structures where it safely melts. The canopies feature a corrosion resistant, marine grade paint finish and are structurally designed to outlast the 25-year production guarantee of the PV panels they support.
About Solaire Generation:
Solaire Generation is the market leader in the design, fabrication, and installation of innovative and economical carport solutions for ground and garage parking facilities. Headquartered in New York City and with offices in San Diego and Boston, Solaire has installed more than 60 MW of solar parking canopies across the country. Solaire's proprietary canopy designs can be found on the campuses of Fortune 100 companies, US military bases, schools, universities and other municipal facilities. Solaire's services include the financing and development of solar projects, as well as full installation services.
Company Website: http://www.solairegeneration.com
Media Contact: Dylan Hammer, Solaire Generation, 646-738-6968 dhammer(at)solairegeneration.com