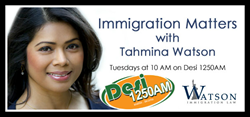 Seattle, WA (PRWEB) October 07, 2015
Watson Immigration Law announced today the launch of a brand new show "Immigration Matters with Tahmina Watson" airing on Desi 1250 AM starting on October 13th 2015. Desi 1250 AM caters to the South Asian community and is the only South Asian radio station in the Seattle-Tacoma area.
Immigration Matters with Tahmina Watson- will be a 30 minute talk show discussing the latest news and issues in US immigration laws. It will feature interviews with notable people who have made an impact on immigration law or are notable immigrants themselves. Listeners will also have the opportunity to call-in and get answers to their immigration questions. The show will provide a fresh way to learn about important US immigration law developments.
Founder of Watson Immigration Law, Tahmina Watson is the author of 'The Startup Visa: Job Growth & Economic Prosperity in the America." She has broad experience in US immigration laws with a specific focus on business and investor based immigration law. She is a passionate advocate for immigration reform and more specifically, a Startup Visa. A frequent speaker, author and blogger on US immigration matters, Tahmina has been featured in Forbes, on CNN, NPR and a number of other media outlets.
Tune in:
Immigration Matters with Tahmina Watson can be heard every Tuesday at 10 a.m. starting October 13th 2015 on Desi 1250 AM.