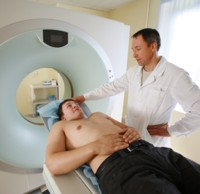 Local control was significantly improved with tomotherapy.
Raleigh, NC (PRWEB) October 08, 2015
UCLA scientists comparing two types of precision radiotherapy for mesothelioma say one of them is more effective at keeping cancer from growing back in the same spot after surgery. Surviving Mesothelioma has just posted an article on the new research. Click here to read it now.
Doctors at the David Geffen School of Medicine evaluated the cases of 45 patients with advanced pleural mesothelioma. Twenty-three were treated with 3D-CRT after surgery and the other 22 received tomotherapy.
"Local control was significantly improved with tomotherapy," writes lead author Aman Kishan, MD, in a summary of the findings published in Practical Radiation Oncology.
The study found that it took a median of 19 months for mesothelioma tumors to start growing back in the patients who had tomotherapy, versus just 10.9 months in those who underwent 3D-CRT.
"As this study suggests, subtle differences in treatment methods can have a significant impact on mesothelioma outcomes," says Alex Strauss, Managing Editor of Surviving Mesothelioma. "We are committed to arming patients with the information they need to make informed decisions."
For more on the two radiotherapy methods and their impact on mesothelioma survival, see Precision Radiotherapy Method May Reduce Local Recurrence of Mesothelioma After Surgery, now available on the Surviving Mesothelioma website.
Kishan, Amar et al, "Tomotherapy improves local control and changes failure patterns in locally advanced malignant pleural mesothelioma", August 1, 2015, Practical Radiation Oncology, Epub ahead of print, http://www.practicalradonc.org/article/S1879-8500(15)00240-4/abstract
For nearly ten years, Surviving Mesothelioma has brought readers the most important and ground-breaking news on the causes, diagnosis and treatment of mesothelioma. All Surviving Mesothelioma news is gathered and reported directly from the peer-reviewed medical literature. Written for patients and their loved ones, Surviving Mesothelioma news helps families make more informed decisions.