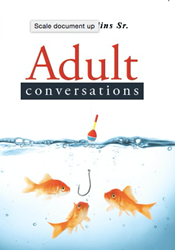 St. Thomas, Virgin Islands (PRWEB) October 07, 2015
Most families and marriages can attest confusion to miscommunication. Whether that is through body language or simply not sharing how one truly feels, communication tells another person everything they need to know.
If anyone knows how important communication is, it would be emerging author Robert Collins. Over his life of 65 years, Collins has been able to pinpoint problems when communicating to others and has also heard from multiple individuals the downfall of failing to communicate well. Because of this, Collins has published "Adult Conversations," a self-help book that teaches readers how to improve their communication skills with each other.
"Over and over I hear of situations where people can't communicate and didn't know why. Once introducing the method I follow to friends, people started to understand better," Collins said.
"Adult Conversations" is based off of "What Do You Say After You Say Hello," by Eric Berne. The biggest difference between the two books is that "Adult Conversations" reiterates what each ego state consists of and short stories to show how the concept works.
"I've explained in a way in which children, teenagers, grownups, and the elderly can apply these simple concepts," Collins said.
After reading Collin's personal experiences with the PAC method, others will understand how simple the concept is and how through it, the world will be a better place. "Adult Conversations" will leave readers confident in their abilities to communicate and in the way they carry themselves.
"Adult Conversations"
By: Robert Collins
ISBN: 978-1-496936509
Available in softcover, hardcover, e-book
Available on Amazon, Barnes & Noble and AuthorHouse
About the author
Inspired by Eric Berne, Robert Collins has been living out the PAC method when communicating with others for many years. Now as a new emerging author, Collins is sharing of his experiences with the world in his book, "Adult Conversations." Currently residing in St. Thomas, Collins is a devote Christian and enjoys spending time with his wife of 30 years.
# # #
**FOR IMMEDIATE RELEASE**
For review copies or interview requests, contact:
Katie Wenclewicz
317.602.7137
kwenclewicz(at)bohlsengroup(dot)com