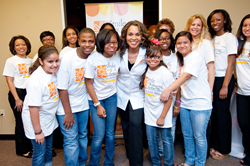 "The gift of a smile can have a long lasting positive effect on a child and can lead to greater opportunities in their future..." Dr. Heather Brown
Colorado Springs, CO (PRWEB) October 12, 2015
NFL football fans who are interested in having an opportunity to go to the 2016 Super Bowl might want to consider donating to a great cause. CLICK HERE to donate to Smile for a Lifetime (S4L) Foundation and gift a smile to a child in North America and receive an opportunity to win an all-inclusive trip to the 2016 NFL Super Bowl!
Donors contributing $20.00 or more between now and November 30th, 2015 will receive one free entry into S4L's 2016 NFL Super Bowl Ultimate Experience Drawing for a chance to win a trip to next year's Super Bowl! Donations of $100.00 will receive six free entries instead of five!
Smile for a Lifetime's mission is to…"create self-confidence, inspire hope and to change the lives of children in a dramatic way…" through the gift of a smile. One hundred and sixty-two S4L chapters currently donate over 1000 smiles to children across North America. All donations help to recruit new chapters allowing S4L to serve more children.
Description of the vacation package is listed below. To donate NOW
The 2016 Super Bowl Ultimate Experience includes: 2 Lower Level End Zone Super Bowl Tickets* on February 07th, 2016** 3 nights Hotel in San Francisco/Santa Clara area (Hyatt/Hilton or comparable) Breakfast each morning (2) Tickets to the Super Bowl Fan Fest (2) Round Trip Airfare Winspire Full time on site staff - Rental Car for the duration of the Event **Seats can be upgraded to Lower Level Corners to 15 Yard Line for an additional $2,000.00 paid directly to Winspire at time of booking.
To date, Smile for a Lifetime has awarded over 22 million dollars of orthodontic products and services to deserving youth across North America. CLICK HERE to change a life today through the gift of a smile.