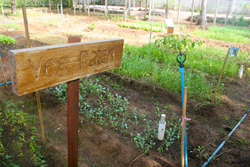 Michelin starred chef and resident manager of Aleenta Hua Hin, James Noble said, "Sustainability is at the core of who we are as a resort, and it's great when you can combine that with an enhanced guest experience."
HUA HIN, THAILAND (PRWEB) October 07, 2015
The award-winning 'green' Aleenta Hua Hin Resort & Spa, Pranburi, is leading the way in sustainable culinary techniques with a new Carbon Free Cooking initiative. The finest cuisine is created using produce sourced from the resort's own organic farm, and cooked using methods that ensure the lowest carbon footprint.
Named the Best Sustainable Hotel in Thailand at the International Hotel Awards, the boutique resort of 23 unique residences is just over two hours from Bangkok, but a world away in terms of its 'green' approach. All ingredients are sourced both organically, and from within a 30km radius of the resort. This means that each ingredient has a proven provenance, with the whole journey from garden to table known.
Vegetables are grown in the resort's community garden, where visitors can pick freely in exchange for replanting a seed as a way of paying forward. The farm's vegetables and smoked meat is transported to the resort kitchen by bicycle or a tuk-tuk powered by fuel made from cooking oil disposed of by other local resorts. Once in the kitchen, slow cooking and creative natural techniques are used with dishes cooked in solar ovens, smoke houses and with methods based on molecular cooking to ensure a minimal carbon footprint. Examples include clay pots buried in the hot sand on the beach, solar baked cakes cooked in wooden boxes lined with foil, and steamed seawater seaweed.
Michelin starred chef and resident manager of Aleenta Hua Hin, James Noble designed the carbon free cooking concept and oversaw the creation of the organic farm and the restaurant menus. Commenting on his inspiration, Noble said: "You can do things differently and succeed while also being environmentally friendly. Sustainability is at the core of who we are as a resort, and it's great when you can combine that with an enhanced guest experience. It is such a rewarding approach, creating fantastic dishes that we know have such little impact on our environment."
Committed to a minimal carbon footprint, the resort's steps extend past food: furniture is made from reconstructed local wood and the hammock netting is handmade by local fishermen. Waste water is also recycled to irrigate the garden and the resort's local organic farm. Additionally, more than 90 percent of the resort's staff come from within 30 kilometres of the property.
Anchalika Kijkanakorn, founder and managing director of AKARYN Hotel Group, added: "As the original site of my family home, preserving the natural beauty of this haven and our surrounding environment is crucial. I am proud that the steps we are taking at Aleenta Hua Hin Resort & Spa and across all of our hotels are being recognized globally by not only the industry, but by our valued guests who respect the time and dedication this 'green approach' takes. I firmly believe we are sowing the seed for future projects of this type across the world."
The Aleenta Hua Hin's 7-night Gourmet Getaway Package starts from $210 per night, based on double occupancy in an Ocean View Residence. Guests will enjoy luxurious accommodations, round-trip Bangkok Airport to hotel transfers, refreshing cocktail and welcome message in the sand upon arrival, daily gourmet breakfast and canapes and cocktail served in residence at sundown. Tailored to satisfy the inner foodie, this unparalleled culinary experience includes a farm tour and a chance to play a leading role in shaping the future of food by participating in a tree planting and three, four-course Thai cookery classes per person.
To book, visit http://www.aleenta.com/huahin/special-offers/gourmet-getaway-package/,
call +66 2 514 8112 or email rsvn.hhq(at)aleenta(dot)com or gm.ahh(at)aleenta(dot)com.
http://www.aleenta.com/huahin
About AKARYN Hotel Group
AKARYN Hotel Group specializes in the management of small luxury resorts in south east Asia and is the owning and management company for Aleenta Phuket-Phang Nga (Aleenta.com/phuket) Aleenta Hua Hin-Pranburi (Aleenta.con/huahin). AKARYN Hotel Group also operates akyra Chura Samui (theakyra.com/kom-samui) on Chaweng Beach, Koh Samui, akyra Manor Chiang Mai (theakyra.com/chiang-mai). In June 2016, Arovada Private Island by AKARYN will launch in Cambodia.
For further information on AKARYN Hotel Group, visit http://www.akarynhotelgroup.com, follow us on Facebook, Twitter, Instagram @AHMS_Hotels, watch us on YouTube or contact us at +66 2 514 8112.
-ends-
Notes to Editors
For further information or photography, please contact Anne Ryan at Danika Communications at +203 661 3663 or ryan(at)danikapr(dot)com.