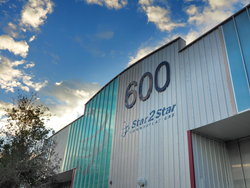 Sarasota, Florida (PRWEB) October 07, 2015
Star2Star Communications, makers of the World's Most Scalable Cloud Communications Solution, today announced a number of advancements in the company's senior management staff. The changes will allow the company to focus on continued growth and channel expansion.
The promotions are:
Michelle Accardi, currently Chief Marketing Officer, will assume the role of Chief Operating Officer. Ms. Accardi joined Star2Star in 2013, and has overseen a significant increase in Star2Star's sales and marketing activities. In her new role, she is responsible for leading Sales, Customer Service, Account Services, Technical Support and Partner Services teams.
Randy Richardson transitions from Chief Operating Officer to become Star2Star's first Chief Information Officer. As Star2Star has grown, the development of streamlined, integrated systems and processes has become critical. Mr. Richardson's first charge is to develop and implement a multi-year vision of integrated systems and cohesive information across the company.
John McGovern, currently Executive VP, Finance and Accounting, will transition to the role of Chief Financial Officer of Star2Star. Mr. McGovern will assume responsibility for the overall financial health of the company. A recent addition to the Star2Star team, Mr. McGovern brings with him great deal of relevant experience in both finance and in the telecommunications industry. He has been CFO of publicly traded and private equity backed small to mid-sized companies and has been divisional CFO for multi-billion dollar enterprises
Gary Arnold, currently CFO and Treasurer, becomes Executive Vice President & Treasurer. Mr. Arnold has been with Star2Star for nine years, overseeing the company's accounting, finance, tax and legal functions, culminating in the close of a highly-successful equity raise in December of 2014. In his new role, Mr. Arnold will be responsible for the company's banking and financing relationships, including outside funding and credit sources.
Bruce Illes, currently Legal Counsel, is now the Chief Legal Officer. Since joining the company in mid-2011, Mr. Illes has become involved in all aspects of the Company's business from a legal perspective. Mr. Illes and his team touch almost everything legal for the Company, from non-disclosure agreements, vendor contracts, and carrier agreements, to employment related matters, and managing outside counsel when needed.