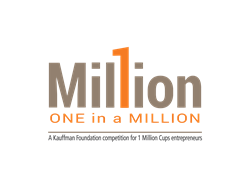 Kansas City, MO (PRWEB) October 07, 2015
Fifteen entrepreneurs from 12 states ranging from Oregon to Florida have been chosen as semifinalists in the Ewing Marion Kauffman Foundation's "One in a Million" pitch competition for startup entrepreneurs. The semifinalists will travel to the Kauffman Foundation in Kansas City during Global Entrepreneurship Week for the chance to become one of five finalists who will compete in a livestreamed event on Nov. 18.
A panel of independent judges evaluated contestants' business plans and pitch videos and selected these semifinalists to compete for a grand prize of $10,000. The second- and third-place winners will receive $5,000 and $1,000, respectively.

AEGLE Palette, Shawnee, Kan.
blooom, Leawood, Kan.
Cirkul Bottle, Sarasota, Fla.
Crowd Energy, Zephyrhills, Fla.
DryBox - Wet Phone Rescue, San Antonio, Texas
GO Box, Portland, Ore.
GoWorx, Asheville, N.C.
Idle Smart, Kansas City, Kan.
Increment, Providence, R.I.
iPourIt, Inc., Lake Forest, Calif.
knectIQ Inc., St. Paul, Minn.
NextStep.io, Cedar Rapids, Iowa
Pick My Solar, Los Angeles, Calif.
SWINEGUARD Inc., New Sharon, Iowa
Upsie, Minneapolis, Minn.
To qualify for the competition, entrepreneurs had to have pitched their startup business concept at a 1 Million Cups event. 1 Million Cups is a free, weekly program that educates, engages and connects local entrepreneurs. Every Wednesday morning, entrepreneurs present their startup business idea in detail and answer questions from the audience.
The initial field of 377 One in a Million contest entries was narrowed to these 15 semifinalists based on their businesses' marketability; long-term potential; management team; and the entrepreneurs' ability to persuasively present their businesses in a few minutes.
Event sponsors include The Roasterie and Kansas City PBS station KCPT.
More information on the One in a Million competition is available at http://www.kauffman.org/1NAM.
About the Kauffman Foundation
The Ewing Marion Kauffman Foundation is a private, nonpartisan foundation that aims to foster economic independence by advancing educational achievement and entrepreneurial success. Founded by late entrepreneur and philanthropist Ewing Marion Kauffman, the Foundation is based in Kansas City, Mo., and has approximately $2 billion in assets. For more information, visit http://www.kauffman.org.