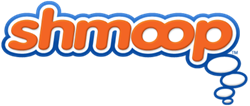 Shmoop's courses aren't your run-of-the-mill online offerings. We offer substance. Depth. Emotion.
Mountain View, California (PRWEB) October 15, 2015
As citizens of Earth, students should probably know how the world has gotten to be the way it is. Why? Because the past informs the present, history repeats itself, and cliches about history are everywhere.
That's why Shmoop, a digital publisher known for its award-winning Test Prep and certified Online Courses, has released a year-long course in modern world history, starting with the rise of democracy and ending with...today. With intros, readings, and a wide array of projects, quizzes, and activities, students will be able to identify major turning points in history, analyze the impact of modern wars, and sniff out the roots of current world issues. Spoiler alert: There are lots of 'em.
Speaking of the modern world, times are a changin'—and so is the way educators are teaching math. Enter integrated math, a system in which students learn a bit about algebra, geometry, trigonometry, and calculus every year in high school, instead of splitting it up across each grade. The rest of the world is doing it, and the U.S. (which got its feet wet with pre-calculus) is jumping on the bandwagon. Shmoop's Mathematics I course will be followed up by Mathematics II and III, adding to Shmoop's existing curriculum of ten year-long math courses across middle school and high school... and proving once again that trilogies are always the way to go.
"Shmoop's courses aren't your run-of-the-mill online offerings. We offer substance. Depth. Emotion," says David Siminoff, founder of Shmoop. "Combined with our sound pedagogy, that's what students and teachers are looking for."
Other new courses on Shmoop's comprehensive Course List include Planning and Achieving College and Career Goals, African-American Poetry, and Introduction to Photoshop. It's a motley crew—as education should be. Users can subscribe to Shmoop and gain access to those and hundreds of other courses, while schools and districts should contact sales(at)shmoop(dot)com for major discounts. Subscriptions—individual or bulk—come with access to Shmoop's virtual classrooms and gradebook, so students can follow their own progress and teachers can keep track of everything without even risking a paper cut.
About Shmoop
Shmoop offers hundreds of thousands of pages of original content. Their Online Courses, Test Prep, Teaching Guides, Learning Guides, and interactive Study Tools are written by teachers and experts and balance a teen-friendly, approachable style with academically rigorous concepts. Shmoop sees 11 million unique visitors a month across desktop and mobile. The company has won numerous awards from EdTech Digest, Tech & Learning, and the Association of Educational Publishers. Launched in 2008, Shmoop makes the magic happen from a labradoodle-patrolled office in Mountain View, California.