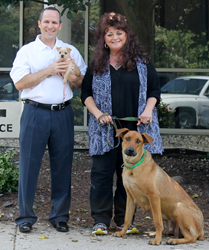 "These organizations work tirelessly to positively impact their communities and we are proud to support them." --Andrew Libman
Arcoloa, Ill. (PRWEB) October 08, 2015
The Libman Company, a 119-year old American manufacturer of household and commercial cleaning products, has donated its commercial push brooms to a number of non-profit organizations across the country, including Ronald McDonald House Charities, the Pets for the Elderly Foundation and its dozens of animal shelters across the country.
"The Pets for the Elderly Foundation is very grateful to Libman for their generous donation to the shelters in our program," said Susan Kurowski, executive director at the foundation. "Shelters are in constant need of quality cleaning products for the health and well-being of the animals, staff, and visitors. It is also gratifying to have the hard work of our shelters recognized by a company like Libman," she added.
The Pets for the Elderly Foundation is an organization that assists with the cost of adoption of a companion animal by a senior citizen - thus reducing the number of animals in shelters and providing companionship, health and happiness to senior citizens. Pets for the Elderly works with 55 participating animal shelters across the U.S., each of which received several brooms for their facilities.
Another recipient of the brooms was The Ronald McDonald House Charities, a nonprofit organization whose mission is to create, find, and support programs that directly improve the health and well-being of children. The houses provide accommodations and compassionate support for families with children with life-threatening illness.
Additionally, Libman's fourth-generation owner, Andrew Libman, made a special stop in Chicago to donate 200 push brooms to Chicago's Animal Welfare League, which provides pet adoptions, low-cost vet clinic and lost & found pet services in the Chicago area.
"We're happy to be able to donate products that can really make a difference in the day-to-day operations of so many pet shelters and Ronald McDonald House homes away from home," said Libman. "These organizations work tirelessly to positively impact their communities and we are proud to support them."
About The Libman Company
The Libman Company is a family-owned company that has been making quality cleaning tools since 1896. The company manufactures products from brooms and mops to more specialized tools for kitchen and bathroom cleaning and industrial uses. Libman proudly manufactures most of their products in the United States, including the company's well-known Wonder® Mop. For more information about the Libman Company, please visit http://www.libman.com.
# # #