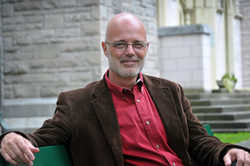 Brian's message is both timely and relevant, and we hope it will appeal broadly to those seeking a better understanding of what it means to follow Christ in our modern world - Rev. Mary Louise McCullough
Nashville, TN (PRWEB) October 07, 2015
Second Presbyterian Church is pleased to announce author, speaker, and activist Brian McLaren is coming to Nashville the weekend of October 23-25, 2015. He will speak about his latest book 'We Make the Road by Walking', which offers spiritual seekers, ex-Christians, and long-time Christians from diverse backgrounds a common understanding of what it means to follow Christ. The weekend will include lectures, discussions, and worship in sessions on Friday evening, Saturday, and Sunday.
McLaren is considered one of the most prominent Christian leaders in America and was recognized by Time Magazine as one of the 25 Most Influential Evangelicals in America in 2005. He is a popular speaker for campus groups, seminaries, and clergy and leadership conferences, nationally and internationally. His books and lectures cover a wide ranges of topics including the gospel and global crises; theology and postmodernity; liturgy, preaching and spiritual formation; evangelism and inter-religious dialogue; and faith and social justice.
In order to ensure that this event reaches into the spiritual community of Nashville, several local churches have agreed to co-host this event alongside Second Presbyterian Church. These co-host churches are:

Belmont United Methodist
Brenthaven Cumberland Presbyterian
Christ Church Cathedral
Downtown Presbyterian
East Brentwood Presbyterian
Glendale Baptist
Glendale United Methodist
GracePointe
Trinity Presbyterian
UKirk Ministries, Nashville
Westminster Presbyterian
Woodmont Christian
"It is exciting to work with our co-host churches to bring Brian McLaren to Nashville," says Rev. Mary Louise McCullough, Senior Pastor of Second Presbyterian Church. "Brian's message is both timely and relevant, and we hope it will appeal broadly to those seeking a better understanding of what it means to follow Christ in our modern world."
The event will begin at 7:00 pm on Friday evening with a lecture followed by time for an audience conversation with Brian. On Saturday, there will be a 10:00 am lecture and conversation, lunch, and a 1:30 pm lecture and conversation. Tickets will be sold for all Friday and Saturday events ($50), or the Friday lecture only ($10). On Sunday, Brian will teach a morning class at 9:30 am and preach at our 11:00 am service.
Tickets are now available to the public. For more information and to purchase tickets please visit: http://www.weekendwithbrianmclaren.eventbrite.com or contact Second Presbyterian Church at (615) 292-3343.
About Second Presbyterian Church:
Second Presbyterian Church, located at 3511 Belmont Boulevard, is a progressive Christian family who loves one another and seeks to love the world in Christ's name. For more information, please visit http://www.secondpresbyterian.org
# # #