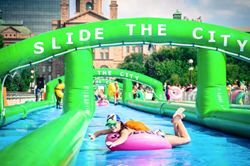 Slide the City is a new way to experience your city
Salt Lake City, UT (PRWEB) October 07, 2015
City streets all over the world were transformed this summer when asphalt was disguised by one thousand feet of slippery vinyl. Slide the City brought its massive slide to over seventy cities around the world. With the commencement of fall, event organizers are already looking forward to next year.
"This season was a huge success," said Slide the City co-owner John Malfatto. "It is great to see so many people outside having the time of their lives on scorching summer days."
This summer, more than 200,000 adventure seekers sped down the one-of-a-kind slide in seven countries. Sliders from Hong Kong to Times Square took a break from the heat as they splashed through city blocks on inner tubes. In June, Sliders in Fort Worth shattered the Guinness World Record for "Longest Distance Slid on a Slip 'n Slide," splashing down 2.5 million feet in one hour.
The enormous waterslide creates the block party of childhood dreams. The slide stretches across three city blocks and brings music, activities, food, and local vendors, and 2016 promises to be bigger and better than ever.
"Slide the City is a new way to experience your city," said co-owner TR Gourley. "We were thrilled with the public response this year and cannot wait to bring the slide to even more communities in our upcoming season."
Slide the City, established in 2014, continues to gain popularity. With the winter months ahead, the slide will fly south. Events in South Africa, Australia, and Malaysia have been announced. Event organizers are already working with cities all over the US and Canada to release their 2016 schedule in January.
About Slide the City
The first event of its kind, Slide the City has seen massive growth since its beginnings in 2014. The popular event is on track to stop in more than 100 cities around the world in 2016. Slide the City brings its massive slide to locations from coast-to-coast. With music, local vendors, activities, and more, city streets are transformed into the biggest block party of the summer.