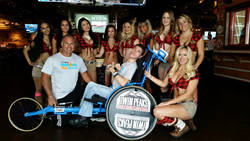 what they accomplish in these races, it is truly amazing - Joe Sloboda
Fort Lauderdale, FL (PRWEB) October 08, 2015
South Florida Twin Peaks franchisee Jafrejo Holdings, LLC is sponsoring the Father and Son Ironman Team of Retired Police Lieutenant Jim Sayih and his 23 year old son Michael who suffers from Cerebral Palsy and is confined to a wheelchair in the Ironman Miami Race on October 25, 2015. The Ironman Miami race consists of a 1.2 mile swim, 56 mile bike ride and a 13.1 mile run. Jim will pull his son in a specially modified raft for the swim and then use a specially designed wheelchair / jogging stroller for the bike and run portions of the race where Jim will push Michael to the finish line.
"My son Michael was born two months premature and suffered severe brain damage. Doctors said that he would never walk, talk or live a normal life and they, and others, suggested Michael be institutionalized. I believed that little Michael could inspire others and live a productive, functional life. Years of therapy and long days with many volunteers who helped Michael with a variety of therapies caused Michael's mother to abandon him and his brother. I continued to maintain the plan to help Michael, and was awarded custody of Michael and his therapy continued. Expenses continued to mount and have become a severe hardship. With only my limited police officer income and limited insurance, getting needed help for Michael has become more difficult. We are really glad that the people at Twin Peaks have decided to help us bring awareness to our cause." Said Jim Sayih
"When I met Jim and heard more about what he and his son have accomplished and what they were planning to do it was inspiring. We are incredibly proud to be associated with these gentleman and we are in awe of what they accomplish in these races, it is truly amazing", said Joe Sloboda, Chief Operating Officer of Jafrejo Holdings, LLC
Twin Peaks will be sponsoring Team Sayih in both the Miami Ironman in late October and the Naples Triathlon in November. The company will also be sponsoring fundraising events at the restaurants Davie and Ft Myers locations prior to each race in an effort to help raise money for the families non-profit foundation.
Today, Michael is 22, has graduated high school and is active in his community. He volunteers at the local police department by delivering the internal mail and has graduated from the Community on Patrol Academy. Michael also helps to fundraise for various organizations including Shriner's Children's Hospitals, Best Buddies, Canine Companions and Make a Wish by participating in 5K runs, bicycle rides and other activities. He cannot physically do these activities on his own, so I am his "wheels," -- pushing him in the events.
Now Michael needs your help so that he can continue to help himself. Even with insurance, Michael will have many uninsured medically-related expenses such as caregiving expenses for three hours every morning and every night and physical therapy four hours per week. Michael has been on the MedWaiver list since he was seven years old. Fundraising for caregivers and physical therapy will greatly help Michael's quality of life and allow him help others as he inspires people to serve others.
To help offset these and other expenses, a fundraising campaign in Michael's honor has been established with HelpHOPELive, a trusted nonprofit organization that has been providing community-based fundraising guidance to patients and their families for more than 30 years. All donations are tax-deductible, are held by HelpHOPELive in the Southeast Catastrophic Illness Fund, and are administered by HelpHOPELive for illness-related expenses only. Click on the Donate Now button on this page to make your contribution. - See more at: