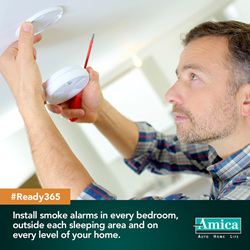 LINCOLN, R.I. (PRWEB) October 09, 2015
Smoke alarms can save lives. In fact, according to the National Fire Protection Association (NFPA), working smoke alarms can cut the risk of dying in reported home fires in half. As part of Fire Prevention Week, Amica Insurance is offering safety tips to make sure smoke alarms are property installed and maintained.
Half of home fire deaths result from fires reported between 11 p.m. and 7 a.m., the NFPA says. Smoke can spread quickly, so if there is a fire in your home when you're asleep, smoke alarms allow time to evacuate. Amica is sharing the following tips from the NFPA:

Install smoke alarms in every bedroom, outside each sleeping area and on every level of the home, including the basement.
Test smoke alarms every month. Immediately replace any smoke alarm that does not respond properly when tested.
Make sure everyone in the home understands the sound of the smoke alarm, and when a smoke alarm sounds, get outside and stay there.
Replace smoke alarms every 10 years. To determine the age of a smoke alarm, look on the back to find the date of manufacture. Replace combination smoke-carbon monoxide alarms according to the manufacturer's recommendations.
About Amica Insurance
Amica Mutual Insurance Co., the nation's oldest mutual insurer of automobiles, was founded in 1907. The company, based in Lincoln, Rhode Island, is a national writer of auto, home, marine and umbrella insurance. Life coverage is available through Amica Life Insurance Company, a wholly owned subsidiary. Amica employs more than 3,400 people in 44 offices across the country. For more information, visit Amica.com.
Media inquiries can be sent to MediaCenter@amica.com.
Twitter: Amica
Facebook: Amica Mutual Insurance Co.