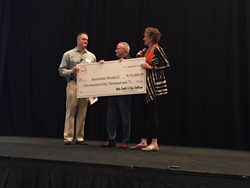 What Dan and Babs have done is immensely generous, and the difference their donation will make in our ability to directly support entrepreneurial veterans cannot be overestimated
Las Vegas, NV (PRWEB) October 21, 2015
American Dream U (americandreamu.org) is proud to announce it has received a $150,000 donation from the Strategic Coach organization (strategiccoach.com), and its founders Dan Sullivan and Babs Smith. The donation, presented directly to ADU by Dan and Babs at the recent Game Changer charity workshop, will directly support ADU's mission to inspire, support, and educate former service members who are pursuing their dream job or starting their own business.
Phil Randazzo, founder of American Dream U said, "I am totally blown away by the generosity from Strategic Coach, and all of those who attended the Game Changer event. This will allow us to make an exponentially greater impact. Thank you Dan and Babs."
"What Dan and Babs have done is immensely generous, and the difference their donation will make in our ability to directly support transitioning veterans cannot be overestimated," said Greg Ekborg, the Director of Marketing for American Dream U. "This benefit workshop was called 'Game Changer,' which is exactly what it was for us. Our purpose is to provide veterans with tools to literally change their lives for the better. Our experience at the workshop and Dan and Babs's generous support have taken our aspiration to do that to a whole new level."
Dan and Babs created the Strategic Coach Program to support entrepreneurs in expanding their entrepreneurial freedom, and they appreciate the commitment and dedication of our armed forces to protecting the freedom of all Americans. "We've been inspired by the work American Dream U is doing with veterans. At the Game Changer workshop, we all got to hear stories about their service from some of the veterans themselves. We're happy to be able to support the future life success of these courageous men and women," they said.
American Dream U is proud to partner with Strategic Coach and all the Strategic Coach clients who participated in the workshop to further our work with this deserving group of Americans.
About American Dream U
American Dream U is a non-profit dedicated to helping current and former military personnel receive the education and access to resources needed to find their dream job or start their own business. ADU holds events on bases around the world and is dedicated to providing the best available speakers, tools, and information to service members. ADU understands that it is thanks to our military that we live in a country where the entrepreneurial dream is possible.
About Strategic Coach
Strategic Coach® is an organization run by entrepreneurs for entrepreneurs, and has since 1988 offered the Strategic Coach Program, whose purpose is to free up entrepreneurs and their teams to make their most valuable and unique contributions, achieve their biggest goals, and enjoy an unparalleled quality of life.